If you are applying for a visa or have received a visa refusal, you may have to apply/reapply along with a DNA test report. Immigration DNA Testing is required to confirm your genetic (biological) relationship with your sponsor. We are providing accredited DNA Tests for Immigration cases, including a DNA Test for UK Immigration.
In case of a doubt, the immigration officer may refuse the visa application. This can delay the overall immigration process and can cost extra money. To avoid these circumstances, getting an Immigration DNA Test before applying for the visa is recommended. At DDC Laboratories India, we are offering Immigration DNA Testing for many countries, like the United States of America, Canada, Australia, and the United Kingdom. In India, we are the only providers of accredited Immigration DNA Tests, including-
AABB – Accredited DNA Test for USA Immigration
NATA – Accredited DNA Test for Australia Immigration
MOJ – Accredited DNA Test for the UK Immigration
What's the need for Immigration DNA Testing?
DNA Test for UK Immigration is often required when a UK citizen is sponsoring the immigration of a relative and needs to prove to the Home Office, Passport Office, or UK embassy or consulate that the person seeking to immigrate is indeed a blood relative.
Similarly, DNA Testing may be required in cases where a child is born in a foreign with parents who are citizens of the United Kingdom in order to allow the child to ultimately be granted UK citizenship. In these cases, the parents contact a local UK embassy or consulate and request a Consular Report of Birth Abroad. In the process of evaluating the claim of maternity, paternity, or other relationship, the UK officials may request immigration DNA testing to establish maternity and/or paternity.
At DDC Laboratories India, we provide a accurate and reliable MOJ accredited DNA Test for UK Immigration at a fair price. We provide DNA Tests for UK Immigration to Indians as well as UK citizens or people living anywhere else in the world. We are one of the best and the only providers of a DNA Test for UK Immigration, accredited by the Ministry of Justice (MOJ), United Kingdom. We provide our services to immigration agencies, embassies, petitioners, and beneficiaries all over the world.
Process of a DNA Test for UK Immigration
The first step in immigration DNA Testing starts with sampling, where preferably Buccal Swabs are used to collect the DNA sample. After the sampling, we send the collected DNA sample(s) to our testing laboratory, where the tests are carried out, and the report is generated. Within a matter of a few days (generally 8-10 working days), we release the test result and provide the report to the customer.
Why us for a DNA Test for UK Immigration?
At DDC Laboratories India, all testing is conducted according to international standards. The tests are handled by our ISO/IEC 17025 standards, NATA and CLIA accredited testing laboratory.
We also operate through a large network of international offices and, thus, flawlessly carry on to provide DNA Tests for UK Immigration globally.
We perform all the tests twice for the highest accuracy and reliability of the DNA Test for UK Immigration.
We have been successfully delivering accredited Immigration DNA testing services for our Indian and International clients, including DNA Tests for UK Immigration. Want to know more or book DNA Test? Call us at: +91 8010177771, WhatsApp us at +91 9213177771.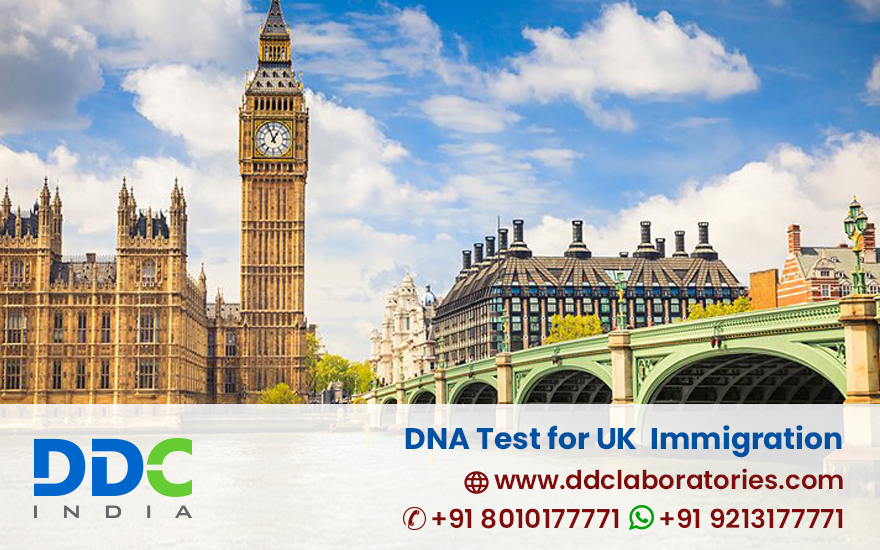 Summary
Author Rating





Brand Name
Product Name
DNA Test for UK Immigration