Thousands of men and women apply for USA visas for different purposes every year. One of the most common purposes is to reunite with a family member or permanently settle with them in the United States of America. The immigration agencies/consulates of the United States of America scrutinize every immigration application critically. Having a DNA Test for USA Immigration is one such requirement. Immigration DNA Tests help establish the genetic relationship between the petitioner (sponsor) and the beneficiary (the applicant) of the immigration. If you are applying for USA immigration In India, you should get an Immigration DNA Test.
Why getting a DNA Test for USA Immigration so Important?
Many people face visa refusals solely due to a lack of relationship proof while applying. At DDC Laboratories India, we provide an AABB-accredited DNA Test for USA Immigration at affordable prices.
The 'American Dream' spreads far beyond the boundaries of the USA. For many aspirants trying for a USA immigrant visa, it's a matter of huge monetary and time investment. For many, it's a one-time opportunity, looking at the cost of the USA Immigration visa. Unfortunately, a majority of applicants have to face visa refusal. Often the sole cause of the visa refusal is the lack of relationship proof.
Once an applicant has received the refusal, it will be going to cost him/her a significant amount of time and money to reapply. To avoid this problem, getting a DNA Test for USA Immigration beforehand and adding the DNA test report along with the primary documents is ideal.
Types of Relationship DNA Test for Immigration Purposes
A DNA Test for USA Immigration can be done in different configurations based on the petitioner-beneficiary relationship. Here are the commonly used DNA Tests for USA Immigration:
Paternity DNA Testing – When a father-child relationship is involved in the immigration case.
Maternity DNA Testing – When the DNA Test for USA Immigration includes the mother-child relationship, then this test is required.
Siblingship DNA Testing – When a person is sponsoring their sibling's USA immigration, then Siblingship DNA testing is done.
Grandparent age DNA Testing – It is often required as a substitute for paternity or maternity testing in the case where the immediate parents are not available, missing, or deceased. However, one case also sponsors their grandchildren's or grandparents' immigration.
Avuncular DNA Testing – When an uncle/aunt to nephew/niece relationship is involved in immigration, an Avuncular DNA Test is done.
Why DDC Laboratories India?
At DDC Laboratories India, we have helped numerous people in their immigration cases. Our testing lab is accredited and recognized by various embassies around the world. With years of experience, an unmatched & excellent track record, and thousands of satisfied customers, we are the most preferred company for accredited immigration DNA Tests in India, including a DNA Test for USA Immigration.
DNA testing is the most widely used technology to determine blood relationships. We identify participants with documents and collect samples in such DNA tests, following which we process the samples under a strict chain of custody in our accredited testing lab. Usually, we collect samples through buccal swabs rubbed inside the mouth and then left to dry before packing. Then, the collected samples are sent to the testing laboratory, and the results are released within 8-10 working days.
For people being tested outside of India, the sample collection is arranged through the nearest US embassy or consulate, and the kit will be sent directly from the lab to the client.
For more information or to book an Immigration DNA Test, contact our customer service representatives at +91 9213177771 (WhatsApp) or you can call us at +91 8010177771.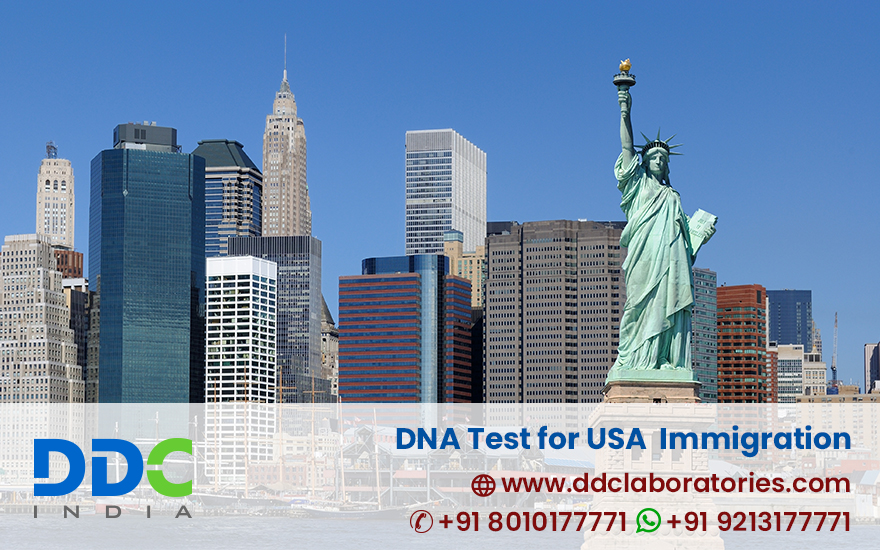 Summary
Author Rating





Brand Name
Product Name
DNA Test for USA Immigration