DDC Laboratories India is offering cost-effective, 100% accurate, and accredited Immigration DNA Tests in Agra, Uttar Pradesh. People looking forward to migrating to a foreign country to settle with their relatives may have to get Immigration DNA Testing. As per the immigration laws, any person, who wishes or is trying to apply for an immigrant visa, needs to prove his/her genetic relationship with their sponsor. To prevent illegal entry into the national borders and to stop the crimes associated with the practice, most countries have adopted stringent immigration laws that state that a person living in the respective country can only sponsor their biological relatives' immigration.
In Agra, our services are easily available. We have been successfully helping people for years to unite with their overseas relatives and settle with them in a foreign country. For this, we are providing accredited Immigration DNA Tests in Agra, Uttar Pradesh.
The process of Immigration DNA Tests in Agra
First of all, it's important to understand some basic terminologies. In a given immigration case, there are at least two parties involved. The first is the petitioner, and the other one is the beneficiary. Here is how to understand both.
Petitioner – A petitioner is also called the sponsor, as they are sponsoring the immigration of their relative. Technically, the petitioner is a lawful citizen of the respective country he/she is living in and is eligible to call their dependent (and biologically related) relatives to settle with them.
Beneficiary – The beneficiary is the party who is applying for the immigrant visa. By the rules, he/she has to be a biological relative of the petitioner (sponsor) in order to get the visa. Generally speaking, in India, the beneficiaries are often the party living in India.
Sample collection for Immigration DNA Tests in Agra
If you are a resident of Uttar Pradesh and looking for an Immigration DNA Test in Agra, you have to first undergo the DNA Sample Collection.
Your sample will be collected in India, under the chain of custody, by our sample collection agents. You need to submit two passport-sized photographs and a copy of any govt.-issued photo I.D. proof. You must have the original I.D. for verification during the sample collection process.
Once your sample is collected, a Case Number is generated, which is shared with your sponsor living in a foreign country. There, they can get their sample collection from an authorized person.
When the two samples are received at our testing facility, we perform DNA testing. After the results are out and the DNA test of the two is a match, the embassy/consular office will notify you to continue with the visa application process. To avoid visa refusal, we recommend you get the DNA test beforehand and attach the report along with the primary papers.
Why DDC Laboratories India for Immigration DNA Tests in Agra and India?
As India's leader in Immigration DNA testing services and with more than 250 collection centers across the country, DDC India Laboratories has begun providing the best Immigration DNA Tests in Agra, Uttar Pradesh.
We have extensive experience in DNA Testing For Immigration, including in China, the UK, Canada, the USA, Australia, New Zealand, European, and many other countries. We make all the arrangements for collecting samples from anywhere in India and abroad.
Our testing lab is accredited by –
AABB – Association for the Advancement of Blood & Biotherapies
MOJ – Ministry of Justice & Home office approved (U.K.)
SCC – Standards Council of Canada
NATA – National Association of Control Authorities, Australia
Our immigration experts are dedicated to serving our clients, and each DNA testing process is closely monitored to ensure proper biological relationships, optimal accuracy, and a satisfactory experience.
Our DNA sample collection centers are spread all over India and abroad. Our samplers take samples from our customers and facilitate and speed up the DNA testing service process. Once the samples have been collected and received by our testing laboratory, we provide test reports within five working days by email and courier.
We are also providing Immigration DNA Tests in Kanpur.If you are a resident of Lucknow, you can also get an Immigration DNA Test in Lucknow.
Please call us at +91 8010177771 or WhatsApp us at +91 9213177771 for more information related to the Immigration DNA Tests in Agra, Uttar Pradesh.
Paternity DNA Test in Agra
Maternity DNA Test in Agra
Relationship DNA Test in Agra
Ancestry DNA Test in Agra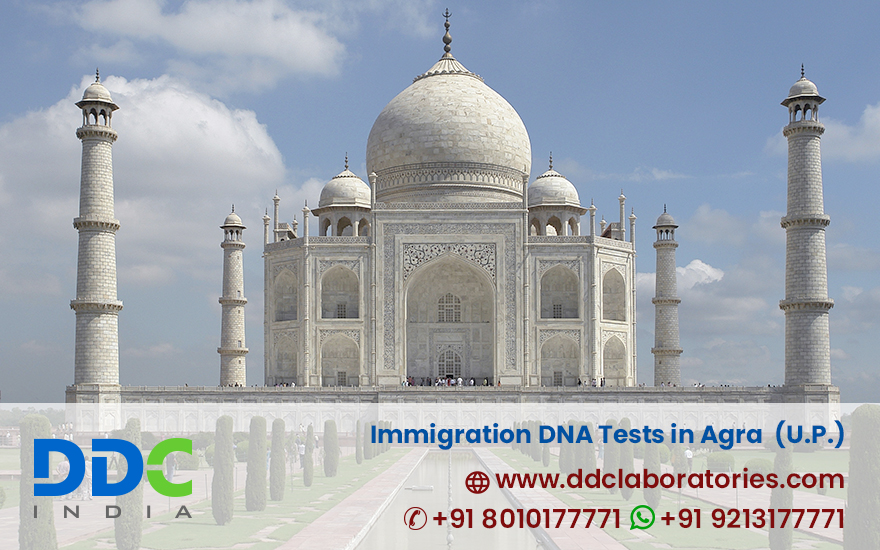 Summary
Author Rating





Brand Name
Product Name
Immigration DNA Tests in Agra, Uttar Pradesh