DDC Laboratories India is affiliated to DNA Diagnostics Center which is an CIC and Ministry of Justice Accredited DNA Testing Laboratory. We have started providing easy and convenient Immigration DNA Tests in Bathinda, Punjab at affordable prices.
We do embassy approved immigration DNA tests in case of immigration application for countries like UK, USA, Australia, Canada, Japan, Switzerland, Dubai and many more. These test results are evaluated as sufficient evidence to prove blood relationship between the family members. We have over 250 collection centers in India and can arrange sample collection from abroad too.
We have several configurations of Immigration DNA Tests available like Paternity DNA Test, Maternity DNA test, Sibling-ship DNA Test, Grand-parentage DNA Test and many more. We have successfully helped people from various countries with their immigration and embassies processes.
Our DNA specimen collection centers are spread all over India and in foreign countries where our samplers collect  samples from our clients and make process of DNA Testing Service easy and convenient for them. Once samples are collected and received to our testing laboratory, we provide test reports in 8-10 working days via email and courier.
For Immigration DNA Tests in Bathinda, Punjab you can call at our helpline no: +91 8010177771 or WhatsApp us at: +91 9213177771 and we'll make it as easy as possible for you.
Paternity DNA Test in Bathinda
Maternity DNA Test in Bathinda
Relationship DNA Test in Bathinda
Ancestry DNA Test in Bathinda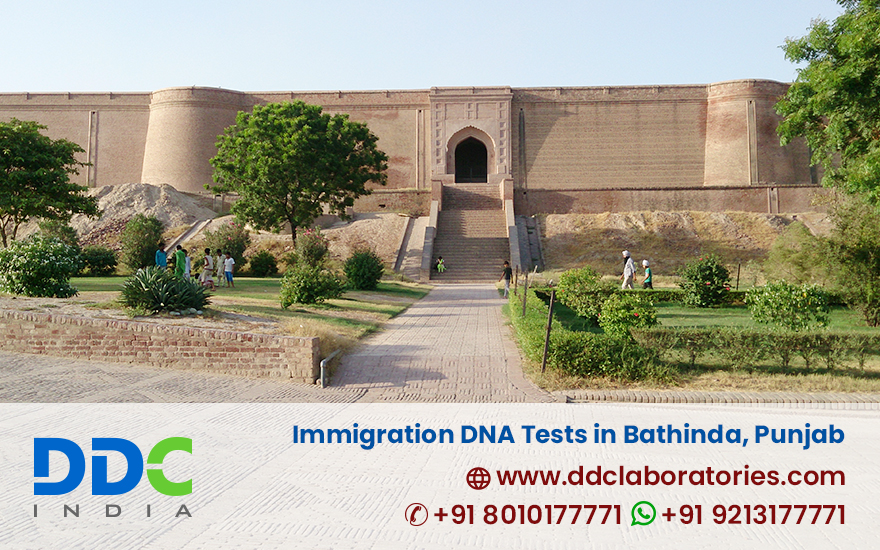 Summary
Author Rating





Brand Name
Immigration DNA Tests in Bathinda, Punjab
Product Name