Chandigarh is India's first and best-planned city. It serves as a district, union territory, and joint capital of both Punjab and Haryana. If you are a resident/native of Chandigarh or nearby areas looking for Immigration DNA Tests you have come to the right place. We provide accredited Immigration DNA Tests in Chandigarh, India, and abroad.
What's the Benefit of an Immigration DNA Test When I Have All Other Documents?
Often the submitted documents cannot prove the genetic relationship between the petitioner and the beneficiary of immigration. This leads to visa refusal, thereby delaying the overall immigration process. To avoid such circumstances, it is recommended to get an Immigration DNA Test before applying for the visa and submit the DNA test report along with the primary documents.
In India, we are the only DNA testing company providing MOJ, NATA, and AABB-accredited Immigration DNA Tests in Chandigarh, Punjab, and in India.
Sample Collection for Immigration DNA Tests in Chandigarh
There are parties involved in immigration – the sponsor, also called the 'petitioner, 'and the applicant or the 'beneficiary'. As per the immigration rules, the two parties must be genetically related for the beneficiary to receive their visa.
The Indian party's DNA sample is collected at our head branch or any of our collection centers in India under the chain of custody, following which a case number is generated. This case number is then shared with the petitioner, who gets their DNA sample collected in their respective country. Once both samples are received at our testing facility, we carry out the DNA testing and share the results with the respective authorities.
Why Get Immigration DNA Tests in Chandigarh at DDC Laboratories India?
At DDC Laboratories India, we strive to provide reliable, accessible, and affordable Immigration DNA testing services. We have various sample collection centers across India where you can visit to give your DNA sample(s) for immigration testing, including Immigration DNA Tests in Chandigarh.
Here, we are providing Immigration DNA testing reports with the following accreditations:
Home Office & MOJ [Ministry of Justice] – For UK Immigration
NATA [National Association of Testing Authorities] – For Australia Immigration
AABB [Association for the Advancement of Blood & Biotherapies] – For USA Immigration
We also conduct embassy-approved immigration DNA tests in Chandigarh for countries like Canada, New Zealand, Japan, Switzerland, Dubai, and more.
You can get Immigration DNA Tests for the following relationships:
Paternity DNA Test
Maternity DNA Test
Grandparentage DNA Test
Siblingship DNA Test
Avuncular DNA Test
Kinship DNA Test
We have an experienced and dedicated immigration team who work exclusively with consultants, embassies, private customers, and immigration law companies in regard to Immigration DNA testing.
We guarantee maximum accuracy with more than 20 markers. Moreover, our testing laboratory achieved 17 perfect quality inspection assessments by accreditation bodies, guaranteeing 100% accurate Immigration DNA test results. You can contact us and book your Immigration DNA Tests in Mohali, Panchkula, and other cities in the state.
To know more about Immigration DNA tests, call +91 8010177771 or WhatsApp us at +91 9213177771, and our customer representatives will help you out with your queries.
Paternity DNA Test in Chandigarh
Maternity DNA Test in Chandigarh
Relationship DNA Test in Chandigarh
Ancestry DNA Test in Chandigarh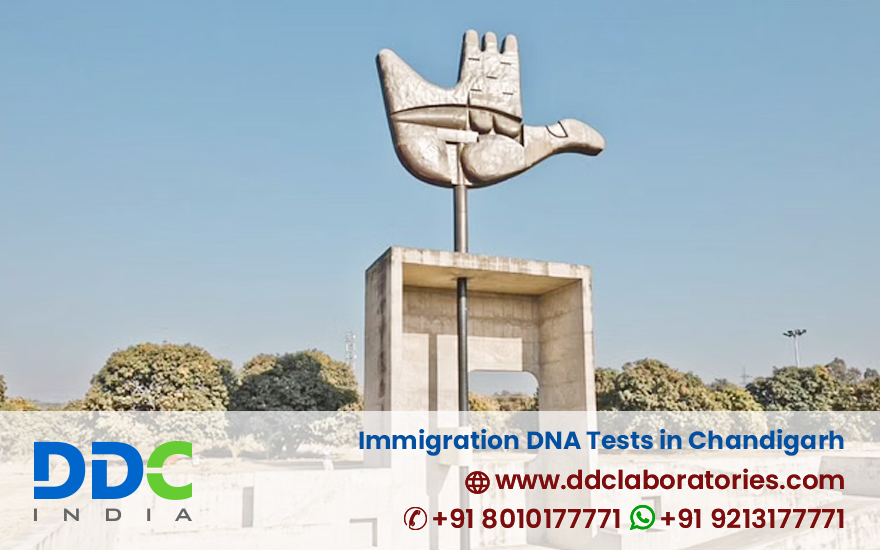 Summary
Author Rating





Brand Name
Immigration DNA Tests in Chandigarh
Product Name