Daman and Diu is the union territory located in the western part of India. India's competitiveness in DNA diagnostics has led to the easy accessibility of quality and highly valuable DNA Testing Services in the nation. Today, you can get different types of DNA Tests in Daman & Diu, depending upon your need. However, the authenticity, accuracy, and reliability of a DNA test are critical, and here, at DDC Laboratories India, we take care of all of these. You can get an Immigration DNA Test in Daman and Diu for various countries like the USA, Canada, Australia, etc.
Depending upon your relationship with the sponsor, you can get an Immigration DNA Test in Daman and Diu in the following configurations.
Paternity DNA Test
Maternity DNA Test
Siblingship DNA Test
Avuncular DNA Test
Grandparentage DNA Test
Visa refusals are very common. Spending countless hours and effort seeking a visa and then seeing it rejected is an agonizing experience. But, 'Don't Worry' you can reapply with an Immigration DNA Tests report to ensure success in your next go. We recommend you get an Immigration DNA Test beforehand to save yourself from visa refusals in the first place.
Process of Immigration DNA Tests in Daman and Diu
Say, your primary documents in your visa application are unable to prove your relationship with the petitioner. In this case, the immigration officer may reject your visa.
There are two parties involved in the Immigration process – the applicant or the beneficiary and the sponsor or the petitioner.
The applicant will first schedule his/her Immigration DNA Test in Daman and Diu; then, a case number is generated, which will be shared with the petitioner with a sample collection kit. The petitioner will then get a DNA test at an authorized sample collection center or the embassy/consulate using the same case number. If the two DNA tests are a match, the applicant is granted the visa.
DDC Laboratories India – For Immigration DNA Tests in Daman and Diu
At DDC Laboratories India, we have been successfully providing accredited Immigration DNA tests for various countries. Our testing lab is accredited by –
The Ministry of Justice (MOJ) – For the UK Immigration
The Association for the Advancement of Blood and Biotherapies (AABB) – For the USA Immigration
The National Association of Testing Authorities (NATA) – For Australia Immigration
Clinical Laboratory Improvement Amendments (CLIA)
ANSI-ASQ National Accreditation Board (ANAB)
The highest standards, latest technology & equipment, highly qualified staff, excellent customer support, and the fastest report-delivery makes us the most desirable DNA testing lab/company for an accurate and reliable Immigration DNA test in Daman and Diu.
Therein, several countries have implemented immigration DNA tests as a security measure to prevent illegal entry into the country and also to stop crimes like organ & other smuggling, human trafficking, and poaching.
Our customer support executives are there to help you with any queries related to Immigration DNA Tests in Daman and Diu. With each of our DNA testing procedures, we go to great lengths to ensure that the results of the immigration DNA test are as accurate as possible. We are also committed to providing your DNA test reports in time, looking onto the critical nature of an Immigration case. You can rest assured of the accuracy, reliability, and timely report delivery of your Immigration DNA test in Daman and Diu.
We are also providing Peace of Mind Paternity DNA Tests in India with accurate and reliable results. Couples who wish to check the paternity of the baby in the womb can also get a 100% safe and accurate Non-invasive Prenatal Paternity DNA Test (No Sex Determination) at our lab.
To learn more about Immigration DNA Tests in Daman and Diu, or to book your test, call us at +91 8010177771 or WhatsApp us at +91 9213177771.
Paternity DNA Test in Daman and Diu
Maternity DNA Test in Daman and Diu
Relationship DNA Test in Daman and Diu
Ancestry DNA Test in Daman and Diu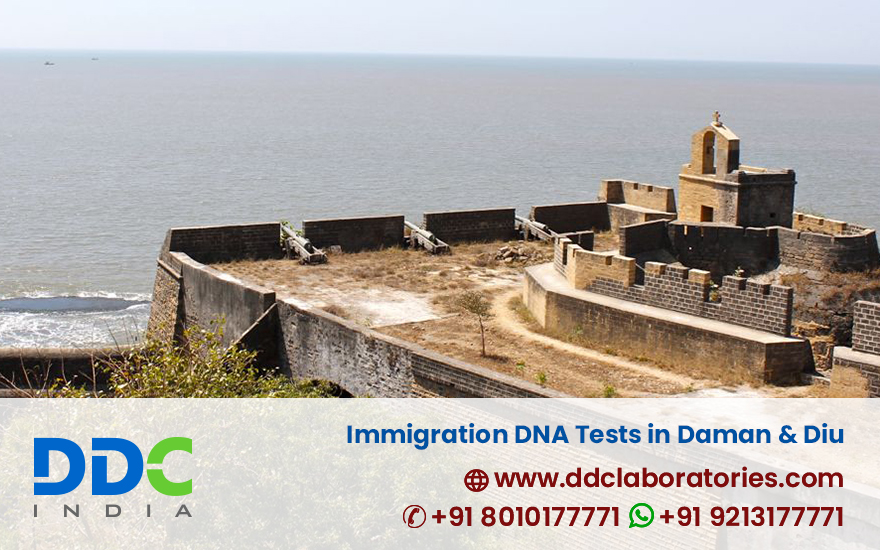 Summary
Author Rating





Brand Name
Product Name
Immigration DNA Tests in Daman and Diu