DDC Laboratories India is one of the top DNA Testing companies in the world and has opened up sample collection centers in many cities of Punjab. Our testing laboratory is known for providing accurate Immigration DNA Tests in India with timely report delivery and at reasonable prices. Now we are providing accredited Immigration DNA Tests in Faridkot of Punjab.
The need for Immigration DNA Tests in Faridkot
Visa refusals are the worst nightmares of the applicants. This can not only cost a significant amount of time but is also critical in terms of money. Once a person receives the visa refusal, he/she has to reapply for the same. This time, only with added time of DNA Testing for Immigration, which is very less, however, can add up complexity and delay to the overall immigration process.
Punjab is one of the states of India that has the most number of aspirants applying for emigration every year. Due to a lack of knowledge of why DNA testing is important for immigration, many get their visas refused at the same time.
In the case of doubt or insufficient documents about the relationship between the parties of the immigration, the immigration officer refuses the visa application. This is done in accordance with the latest immigration laws, which state that the petitioner and the beneficiary must be biologically related individuals. With the latest, most advanced, and accurate and reliable Immigration DNA Tests in Faridkot, Punjab, and in India, now you can make your dreams come true.
We recommend you get the Immigration DNA Test in Faridkot before applying for the visa and submit the DNA test report along with the primary documents.
Sample collection for Immigration DNA Tests in Faridkot
The Indian party will undergo the sample collection in India for the Immigration DNA Test in Faridkot. The case number under which the Indian party is tested is shared with the foreign party, where they get their DNA sample collected. Once both the samples are collected, they are sent to our DNA Testing Facility (lab), where the test is carried out, and reports are generated.
If the two profiles match, it confirms the biological relationship between the two individuals, and the immigration formalities proceed.
Why DDC Laboratories India For Immigration DNA Tests in Faridkot?
DNA Testing is performed in our AABB, NATA, and Ministry of Justice accredited laboratory with strict adherence to the immigration and consultant's office requirements. Immigration DNA tests include paternity, maternity, sibling-ship, sibling-ship, grandparent tests, and many more genetic relationships.
Our dedicated customer support team is committed to serving our customers' needs and providing dedicated customer support for DNA testing to our customers. We have successfully done immigration DNA tests for different countries, including the U.K, U.S.A., Canada, Poland, Australia, Dubai, South Africa, New Zealand, and many more. Our immigration service representatives are particularly adept at working closely with embassies, DHS, USCIS, resettlement programs, and agencies working with refugees, as well as with lawyers and petitioners from worldwide.
We are also providing accredited Immigration DNA Tests in Ludhiana.
If you have questions regarding any aspect of the Immigration DNA Tests in Faridkot, Punjab, feel free to call or WhatsApp us at +91 9213177771. You can also contact us at +91 8010177771, and our team of executives will be glad to help you in every stage of the DNA test.
Paternity DNA Test in Faridkot
Maternity DNA Test in Faridkot
Relationship DNA Test in Faridkot
Ancestry DNA Test in Faridkot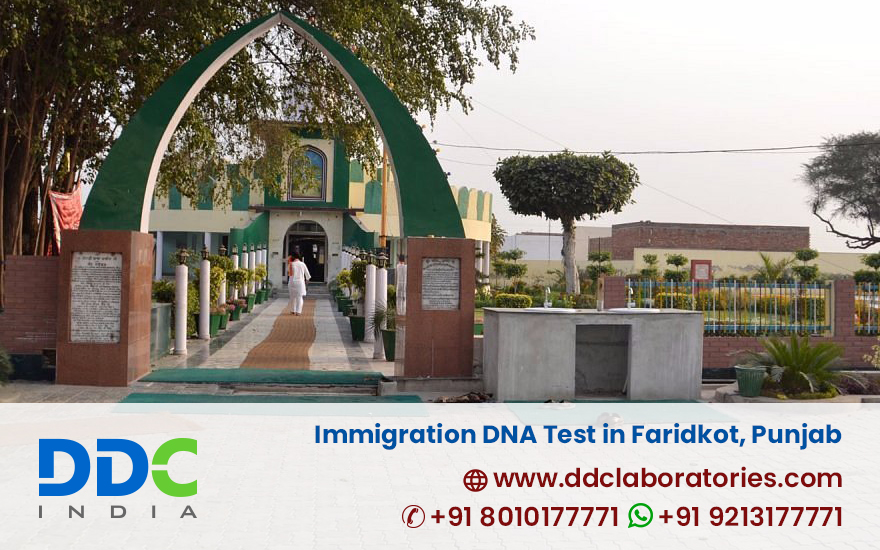 Summary
Brand Name
Product Name
Immigration DNA Tests in Faridkot, Punjab