Immigration Testing is one of the most common applications of a DNA Test. There has always been a need for accurate and, most importantly, reliable Immigration DNA Tests in India. We are providing accredited Immigration DNA Tests across India. If you are a resident of Punjab looking for Immigration DNA Tests in Firozpur, we are the best option you can go with.
Why is Immigration Testing important?
There are chances where your primary visa application documents may not suffice in proving your relationship with your sponsor. By the immigration laws, the petitioner (sponsor) and the beneficiary (applicant) of the immigrant visa must be biologically related.
When in doubt, the immigration officer rejects the visa application. If you get a visa refusal, you need to apply again and have to start from scratch again. This doesn't only cause of loss of precious time but actual money as well.
In order to avoid this situation, we recommend you get a DNA test beforehand and apply for it with the DNA Test report.
Sample Collection process for Immigration DNA Tests in Firozpur
There are two parties involved in an Immigration case. Getting Immigration DNA Tests in Firozpur, Punjab, or any other part of India, requires the DNA samples of the petitioner and the beneficiary.
For the Indian party, the sample collection is carried out in India itself, while for the other party living in any foreign country, the sample collection is arranged by us in their respective country.
The case number of the Indian party's DNA sample collection is shared with the foreign party, where they give their DNA sample for Immigration DNA Testing.
When both the samples are received at our testing facility, we do the DNA testing and release the result. If the two DNA profiles match, then the Immigration process is allowed to proceed.
Why DDC Laboratories India for Immigration DNA Tests in Firozpur & India?
In India, we are the only DNA testing company for NATA, MOJ, and AABB-Accredited Immigration DNA Tests in Firozpur and across India. We are providing Immigration DNA testing reports with the following accreditations:
AABB [Association for the Advancement of Blood & Biotherapies] – For USA Immigration
Home Office & MOJ [Ministry of Justice] – For UK Immigration
NATA [National Association of Testing Authorities] – For Australia Immigration
We also conduct embassy-approved Immigration DNA tests in Firozpur for countries like Canada, Japan, Switzerland, Dubai, and more.
With our collection centers all over India and internationally, DDC Laboratories India is one of the top providers of accredited Immigration testing services in India, including Immigration DNA Tests in Firozpur.
You can get Immigration DNA Tests in Firozpur for the following relationships:
Paternity Testing for Immigration
Maternity DNA tests for Immigration
Grandparentage DNA Test for Immigration
Kinship Test for Immigration
We have an experienced and dedicated immigration team who work exclusively with consultants, embassies, private customers, and immigration law companies in regard to Immigration DNA Testing.
Dial our helpline no +91 8010177771 or WhatsApp us at +91 9213177771 for the best Immigration DNA Tests in Firozpur, Punjab, and India.
Paternity DNA Test in Firozpur
Maternity DNA Test in Firozpur
Relationship DNA Test in Firozpur
Ancestry DNA Test in Firozpur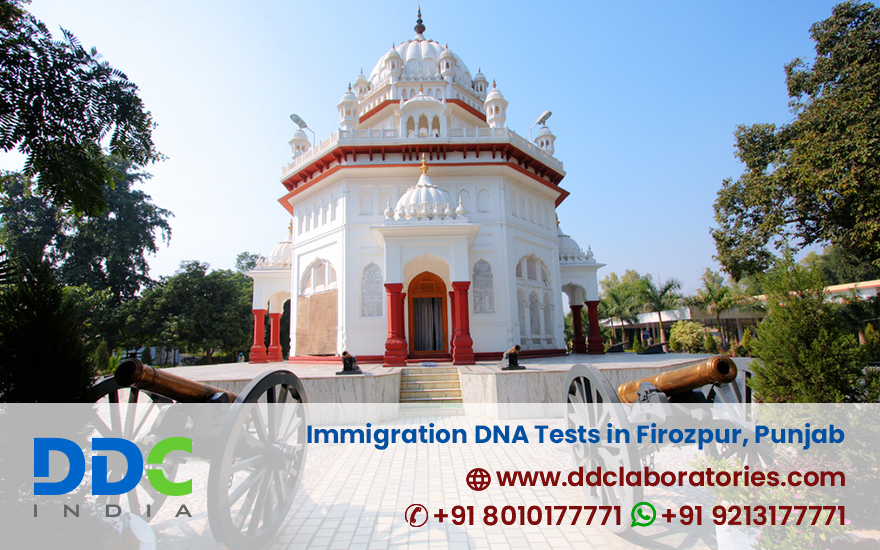 Summary
Author Rating





Brand Name
Product Name
Immigration DNA Tests in Firozpur, Punjab