DDC Laboratories India has been approved for providing most accurate and reasonable Immigration DNA Tests in Gaya, Bihar. We have more than 400 collection centers across India to provide reliable Immigration DNA Test results.
Embassies ask for DNA Test when documents are not sufficient, although a few have made it mandatory. In case of dependent visa a petitioner can present DNA Test to support his / her case and it shall increase his / her chances of approval.
Our testing lab is AABB, Ministry of justice, Home office approved and NATA certified. We provide high quality DNA Testing services with most accurate test results by assuring efficient and careful handling of DNA samples. We also get samples collected from anywhere in India as well as in UK, USA, Canada, Australia, France, Italy, Dubai and other countries.
At DDC Laboratories India, our Immigration DNA Testing laboratory is the world's most accredited and highly certified. We guaranteed maximum accuracy with 20+ markers test and are the only DNA testing lab in India to achieve 17 perfect ratings in quality inspections by accreditation bodies, ensuring 100% testing record.
Our collection centers permit us to collect your DNA samples close to your home or office with full privacy and discretion. If you have questions regarding and aspect of Immigration DNA Tests in Gaya, Bihar, feel free to call: +91 8010177771 or WhatsApp at: +91 9213177771 and our team of experts will be glad to help you in every stage of DNA Test.
Paternity DNA Test in Gaya
Maternity DNA Test in Gaya
Relationship DNA Test in Gaya
Ancestry DNA Test in Gaya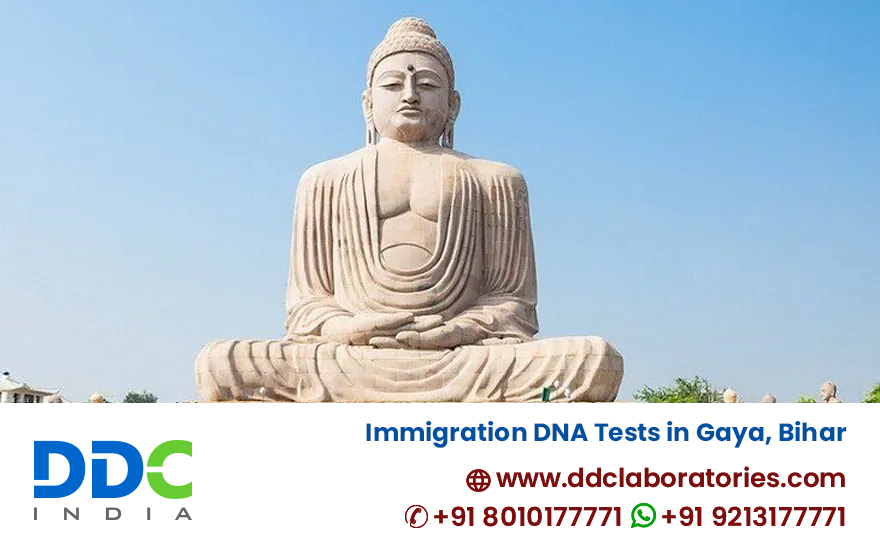 Summary
Author Rating





Brand Name
Product Name
Immigration DNA Tests in Gaya, Bihar