Ghaziabad is among the most urbanized cities in Uttar Pradesh. In the present day, the city is becoming even more established with the development of more facilities like malls, markets, industries, & more amenities for the people living there. So, in case you are searching for Immigration DNA Tests in Ghaziabad, you have landed at the right place. If you or any family members of yours are planning to begin immigrating to a foreign country, DNA testing can be a beneficial tool for visa approval. Proving familial relationships without proper documentation can be challenging, but immigration DNA tests in Ghaziabad offer an excellent way to present biological evidence.
For Which Relations Can I Get Immigration DNA Tests in Ghaziabad?
According to immigration laws, only biologically related individuals can sponsor their relatives. Often, primary documents are insufficient to prove the biological relationship between two parties. In such cases, the immigration officer may deliberately reject the visa application. In such cases, Immigration DNA Testing comes in handy and is a lifesaver. However, we recommend getting an Immigration DNA test beforehand and submitting the report along with your visa application. Immigration DNA Tests in Ghaziabad are available in the following configurations depending on the relationship between you and your sponsor:
Paternity DNA Test
Maternity DNA Test
Siblingship DNA Test
Grandparentage DNA Test
Avuncular DNA Test
Kinship DNA Test
Getting an immigration DNA Test in Ghaziabad, UP, or any other part of India is now easier than ever. We provide NATA & MOJ-accredited Immigration DNA Tests for Australia and the United Kingdom, respectively. Additionally, through our partnership with the renowned DNA Diagnostic Center, we conduct AABB-accredited Immigration DNA tests for the US, ensuring quality and reliability.
Sample Collection for Immigration DNA Tests
In immigration, there are essentially two parties. The first is the beneficiary or the applicant & the second is the petitioner or sponsor.
The applicant will first schedule a DNA Test in Ghaziabad; then, a case number is generated, which will be shared with the petitioner. The petitioner will then get a DNA test at an authorized sample collection center or the embassy/consulate using the same case number.
After both samples arrive at our testing lab, we carry out the DNA tests & release the report in 8-10 business days.
Document Required: 1 government-approved ID proof & two recent passport-size colored photographs of the tested persons.
Why DDC Laboratories India for Immigration DNA Tests in Ghaziabad?
At DDC Laboratories India, you can get accurate, reliable, and accredited Immigration DNA Tests in Ghaziabad. With the fastest results and local collection centers across India, we remain the best choice for immigration testing in India.
Our sample collection process is very easy and painless. Combined with the fastest turnaround time for your DNA test, we are the most frequently sought-after DNA testing company for Immigration DNA Tests in Ghaziabad and India.
For further queries, call us at +91 8010177771 or WhatsApp at +91 9213177771 to schedule an appointment. Additionally, we provide DNA tests in Lucknow, Modinagar, and other places in Uttar Pradesh.
Paternity DNA Test in Ghaziabad
Maternity DNA Test in Ghaziabad
Relationship DNA Test in Ghaziabad
Ancestry DNA Test in Ghaziabad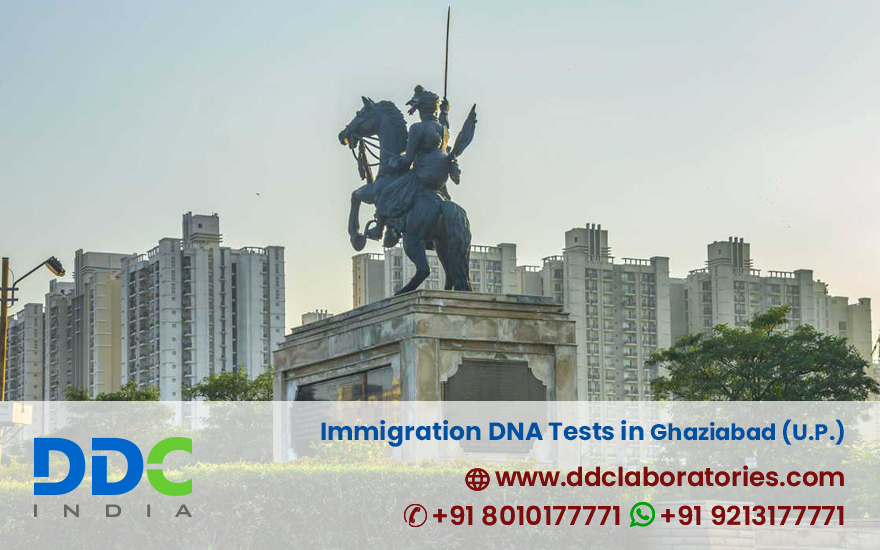 Summary
Author Rating





Brand Name
Product Name
Immigration DNA Tests in Ghaziabad