If you are out there in the market, looking for the best DNA testing lab for accredited Immigration DNA Tests in Gurgaon, then DDC Laboratories India is the way. We have been successfully helping our clients for years with their immigration testing needs. We provide accredited Immigration DNA Tests in Gurgaon at affordable prices and offer accurate and reliable DNA test reports, admissible in the embassies of different countries. But why exactly is Immigration testing so important, and how is DDC Laboratories India helping Indian and International immigration applicants? Let's understand in detail.
Immigration DNA Tests in Gurgaon – Purpose & Where to get one
As per the rules of various embassies, the petitioner can only sponsor the immigration of a biological relative.
Say you apply for the visa and complete all the formalities. While going through your documents, the Immigration officer finds that there is no certain proof of relationship between you and your sponsor. In such a case, your visa will get refused, and you will be asked to present your relationship proof in the form of an Immigration DNA Test report.
This will delay the process of immigration and may also cost you extra money. To avoid these circumstances, it's recommended that you get an Immigration DNA Test beforehand and apply it with the DNA test report.
Relationships For Which You Can Get Immigration DNA Tests
Immigration DNA testing is very critical in the success of immigration. At DDC Laboratories, you can get Immigration DNA Tests in Gurgaon for the following relationships:
Paternity
Maternity
Grandparentage
Siblingship
Kinship
DDC Laboratories India has been the first choice for accurate and reliable Immigration DNA Tests in Gurgaon and India.
We are working from 250+ local and International collection centers, providing the best in class services for Immigration DNA Tests in Gurgaon, India, and abroad.
We provide various accredited Immigration DNA Tests in Gurgaon for different countries. Here you get the following types of Immigration DNA tests:
AABB-accredited Immigration DNA tests for the United States of America
Home Office and MOJ-accredited Immigration DNA tests for the United Kingdom
NATA-accredited Immigration DNA Tests for Australia
We are also providing embassy-approved Immigration DNA Tests for Canada, Switzerland, Dubai, Germany, China, and many other countries.
We have a dedicated Immigration team that specializes in Immigration DNA testing. You can consult with our team to know everything about getting an Immigration DNA Test in Gurgaon, India, or in a foreign country.
We also offer different types of relationship identification DNA Tests in New Delhi, including a Paternity DNA Test, Maternity, Siblingship, and Grandparentage DNA Tests. Besides, you can also get Ancestry tests, signature verification and handwriting examination tests, and Cell Line Authentication DNA tests in New Delhi at DDC Laboratories India.
If you have any other questions about the Immigration DNA Tests, feel free to contact us at +91 8010177771 or WhatsApp us at +91 9213177771.
Paternity DNA Test in Gurgaon
Maternity DNA Test in Gurgaon
Relationship DNA Test in Gurgaon
Ancestry DNA Test in Gurgaon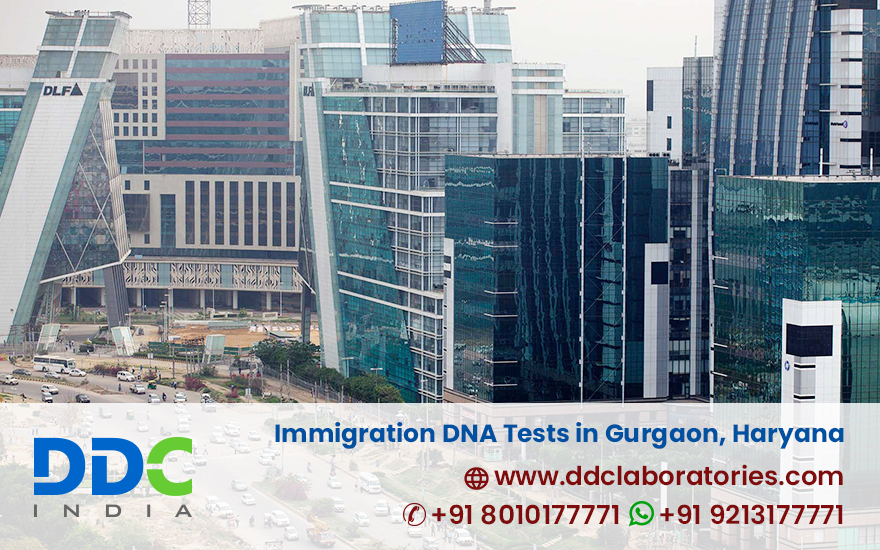 Summary
Author Rating





Brand Name
Product Name
Immigration DNA Tests in Gurgaon