DDC Laboratories India is the leading provider of peace of mind relationship DNA Tests and other specialized DNA tests, like Immigration DNA Test, Ancestry DNA Test, and Cell Line Authentication. Immigration DNA Testing is one of the most commonly used DNA Tests in various parts of India, including Kharar, in Punjab. Kharar is a town located in the Mohali or S.A.S. Nagar District of Punjab. Every year many aspirants from Kharar try for their visas to different countries. However, many cases face visa refusals due to a lack of relationship proof with their sponsors. In such a case, Immigration DNA Testing becomes necessary. At DDC Laboratories India, we are providing accredited Immigration DNA Tests in Kharar, Mohali, and other parts of India, with 100% accurate reports.
As a government policy, any person sponsoring family members for immigration must prove a biological relationship between the petitioner (sponsor) and the beneficiary (sponsored person). For people looking for different types of DNA Tests, including Immigration DNA Tests in Kharar, DDC Laboratories India is ideal. Here is why?
What makes DDC Laboratories India the best for Immigration DNA Tests in Kharar?
We have been successfully solving your immigration problems for many years. Our Immigration DNA Tests in Kharar are easily accessible, affordable, and accurate with the accreditations of AABB, NATA, MOJ, and Home Office of the Govt. of U.K.
Our immigration team works with immigration agencies, embassies, petitioners, and beneficiaries around the world.
Our testing laboratory is the Ministry of Justice (U.K), CLIA (Clinical Laboratory Improvement Amendments), ANAB (ANSI-ASQ National Accreditation Board), AABB (American Association of Blood Banks), NATA (National Association of Testing Authorities, Australia), and ISO 9001 accredited to perform Embassy approved DNA testing for immigration applications.
We are specialized in immigration DNA testing services for various countries, like the United States, Australia, Canada, Spain or Portugal. We provide a DNA immigration legal test to determine whether the beneficiary is biologically related to the petitioner or not. We have hundreds of sample collection centers across India and abroad. We can easily arrange the sample collection of a petitioner overseas.
We also provide expert advice and support in all aspects of Immigration DNA Tests in Kharar, Mohali and India.
Types of Immigration DNA Tests in Kharar, Mohali
An Immigration DNA Test in Kharar can be done in different configurations depending on the relationship between the petitioner and the beneficiary. You can get any of the following types of Immigration DNA Tests in Kharar, or anywhere else in India, for that matter:
Paternity – Paternity testing for an Immigration DNA Test in Kharar is done when either of the parties of the immigration is the father.
Maternity – When the mother is sponsoring her child's immigration or vice-versa.
Siblingship – For Immigration DNA testing between siblings (brothers and sisters)
Grandparentage – For immigration between grandparents and grandchildren; often used as a substitute for paternity testing when the immediate parents are deceased, missing, or unavailable.
Avuncular – Testing for the uncle or aunt's DNA with that of the applying nephew or niece.
We are also providing accredited Immigration DNA Tests in Ludhiana.
If you are looking for the best Immigration DNA Test in Kharar, Mohali, call us at +91 8010177771 or WhatsApp at +91 9213177771 for any inquiries.
Paternity DNA Test in Kharar
Maternity DNA Test in Kharar
Relationship DNA Test in Kharar
Ancestry DNA Test in Kharar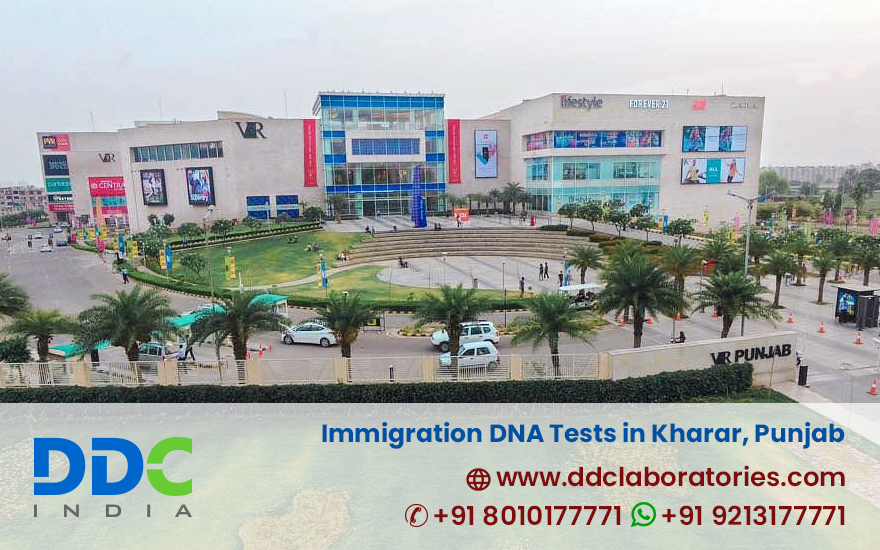 Summary
Author Rating





Brand Name
Product Name