Getting a visa refusal is a nightmare for people applying for an immigration visa. This not only is the reason for disappointment for hundreds of applicants but can cause a significant loss of money and time for the person. DNA testing plays an important role in the success of immigration. As per the Immigration Laws, only a biological relative can sponsor someone's immigrant visa. Failing to prove the genetic (biological) relationship between the parties can lead to visa refusals. In such a case, where your primary documents are unable to prove your relationship with your sponsor, the immigration officer will reject the visa application and may ask you to present the relationship proof with a DNA Test. If you are living in the Ghaziabad area of Uttar Pradesh, you can get Immigration DNA Tests in Modinagar for different countries.
At DDC Laboratories India, we have been an industry leader, providing accredited Immigration DNA Tests in Modinagar, other parts of Ghaziabad, and Uttar Pradesh.
What is the process of Immigration DNA Tests in Modinagar?
The overall process of Immigration DNA Tests in Modinagar remains the same as anywhere else in India, the first step being the DNA sample collection.
As there are two parties within immigration, it's important to understand the sample collection process for both. But, first, you need to know who is who?
The party (person) who is applying for the immigrant visa is called the beneficiary. The one who sponsors the visa is called the petitioner. The petitioner is a citizen of a foreign country, where he/she can sponsor their relatives' immigration.
If both parties are from India, the DNA sample collection for both will take place at one of our collection centers in India. People living in Ghaziabad can undergo the sample collection for the Immigration DNA Test in Modinagar.
If the sponsor is already in a foreign country, he will receive a case reference number from our lab. Using this case number, he/she will get their DNA sample collected in their respective country.
Once both samples are collected, they are sent to our testing facility (laboratory), where we carry out the DNA Testing.
For which Countries can I get Immigration DNA Tests in Modinagar?
At DDC Laboratories India, we are providing Immigration DNA Tests in Modinagar for various countries. The usual destination for most Indian citizens is Canada, the UK, Australia, etc., with many others applying for US immigration as well.
In India, we are providing AABB-accredited Immigration DNA Tests for the United States of America, MOJ-accredited Immigration DNA Test for the United Kingdom, and NATA-accredited Immigration DNA tests for Australia.
We are also providing embassy-approved Immigration DNA Tests in India for other countries, like Dubai, China, Germany, Thailand, New Zealand, and many European countries.
Why DDC Laboratories India for Immigration DNA Tests in Modinagar?
At DDC Laboratories India, we have been working with various immigration agencies in different countries. We provide our clients the option to choose from and get Immigration DNA Tests in Modinagar, depending upon their preference, under one roof.
With 250+ collection centers in India and abroad, we have been successfully providing our services to different parts of the world. For our clients living outside of India, we can arrange their DNA sample collection in their respective countries.
We provide Immigration DNA Tests for all types of relationships, including Paternity, Maternity, Grandparental, Kinship, etc. We also provide DNA Tests in Lucknow and Kanpur area for relationship identification, immigration, and various other purposes.
We have a dedicated team of experts to help you with your queries related to immigration DNA testing. If you have questions about the Immigration DNA Tests in Modinagar, Uttar Pradesh, please do not hesitate to contact us at +91 8010177771 or WhatsApp at +91 9213177771.
Paternity DNA Test in Modinagar
Maternity DNA Test in Modinagar
Relationship DNA Test in Modinagar
Ancestry DNA Test in Modinagar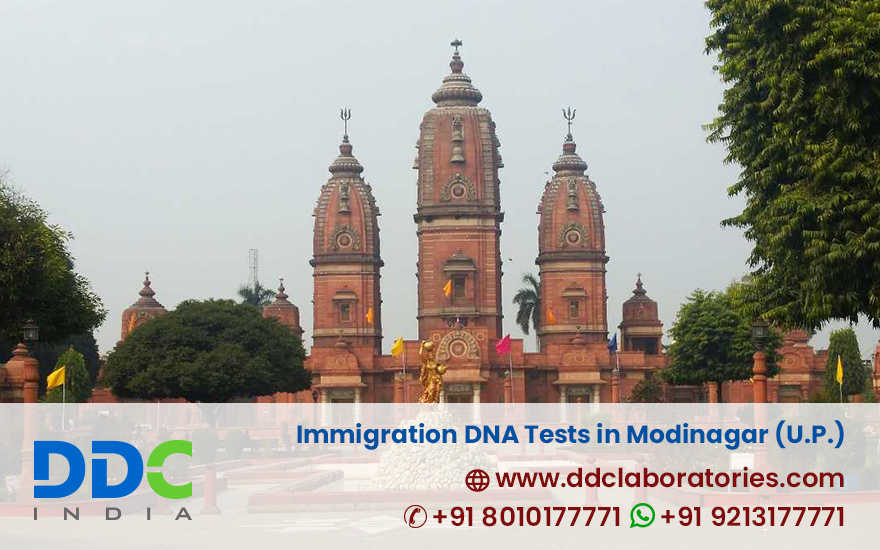 Summary
Author Rating





Brand Name
Product Name
Immigration DNA Tests in Modinagar, Uttar Pradesh