DNA Testing has a very important role in Immigration cases. Thousands of aspirants apply for their immigration visas every year. However, many of them face visa refusals. More than any other point, visa refusals are often the result of the lack of relationship proof. We provide accredited Immigration DNA Tests in Moga, Punjab.
As per the immigration laws, the sponsor and the applicant must be biologically related. In order for immigration to be successful, having relationship proof (DNA Test report) is critical. In the case of a doubt, or in cases where the primary documents do not suffice in proving the biological relationship of the two parties, getting a DNA test for immigration becomes mandatory.
Sample collection for Immigration DNA Tests in Moga
The DNA sample for the Indian party is taken in the country a case number is generated. The case number is shared with the person living in the foreign country, where he/she has to get the sample collected under the same case number.
Once both the samples are received at the testing lab, DNA testing is carried out. If the relationship is confirmed, the applicant is informed to proceed with the application process.
Why DDC Laboratories for Immigration DNA Tests in Moga?
At DDC Laboratories India, we provide accurate Immigration DNA Tests in Moga, Punjab, or anywhere else in India. With the fastest results and local collection centers across India, we remain the best choice for immigration testing in India, including Immigration DNA Tests in Moga, Punjab. We already have a sample collection center in Moga and have started providing the best Immigration DNA Tests in Moga, Punjab.
At DDC Laboratories India, our testing lab is the Ministry of Justice (MOJ), CLIA (Clinical Laboratory Improvement Amendments), ANAB, NATA, and AABB accredited to conduct embassy-approved DNA tests for immigration applications. We have several configurations for Immigration DNA Tests available like a Paternity DNA Test, Maternity DNA Test, Sibling-ship DNA Test, Grand-parentage Test, etc.
We provide specialized Immigration DNA Testing services around the world and have worked with different immigration agencies, embassies, petitioners, and beneficiaries, including the U.K., U.S.A., Canada, Poland, Malaysia, Dubai, Japan, and many more.
We easily obtain samples inside the cheek with a sterile cotton swab (oral swab), and once the DNA samples are collected, they are packaged in a tamper-proof bag for shipment to our DNA Testing laboratory. We share results and case information only with authorized individuals, and the results we issue are legally admissible and may be used as proof of relationship. For the protection of the tested results, we never broadcast the results of DNA tests by phone call.
We are also providing accredited Immigration DNA Tests in Ludhiana.
We understand the need for secrecy and privacy of our customers and provide the convenience of Home sample collections. For further queries related to Immigration DNA Tests in Moga, Punjab, please call or WhatsApp us at +91 9213177771. You can also contact us at +91 8010177771.
Paternity DNA Test in Moga
Maternity DNA Test in Moga
Relationship DNA Test in Moga
Ancestry DNA Test in Moga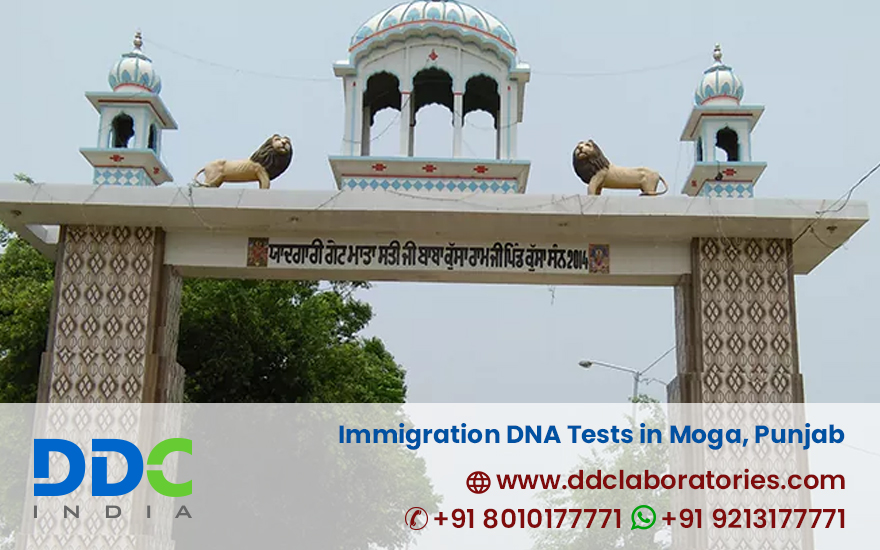 Summary
Author Rating





Brand Name
Product Name
Immigration DNA Tests in Moga, Punjab