DDC Laboratories India is specialized in DNA Immigration Testing and provides affordable Immigration DNA Tests in Panaji, Goa.
Our testing laboratory for immigration purposes DNA tests is AABB (American Association of Blood Banks), NATA (National Association of Testing Authorities, Australia), Home office approved (U.K), Ministry of Justice (U.K) accredited and we are recognized /recommended by various Embassies. We have successfully helped people from various countries with their immigration and embassies processes. Our experience includes application with Thailand, USA, UK, Switzerland, Germany, France, Japan, New Zealand, Singapore, Malaysia and many more countries.
We provide DNA Paternity Test, DNA Maternity Test, DNA Sibling-ship Test and Grandparent biological relationship tests for immigration purposes.
We do embassy approved DNA tests when embassies ask for DNA test when documents are not sufficient where a few have made it mandatory. In case of dependent visa a petitioner can present DNA test to support his / her case and it shall increase his / her chances of visa approval.
We have helped a large number of families with affordable and highly accurate Immigration DNA testing services for various blood relationships. Contact us today at: +91 8010177771 or WhatsApp: +91 9213177771 for best Immigration DNA Tests in Panaji, Goa and our experts will guide and make it as easy as possible for you.
Paternity DNA Test in Panaji
Maternity DNA Test in Panaji
Relationship DNA Test in Panaji
Ancestry DNA Test in Panaji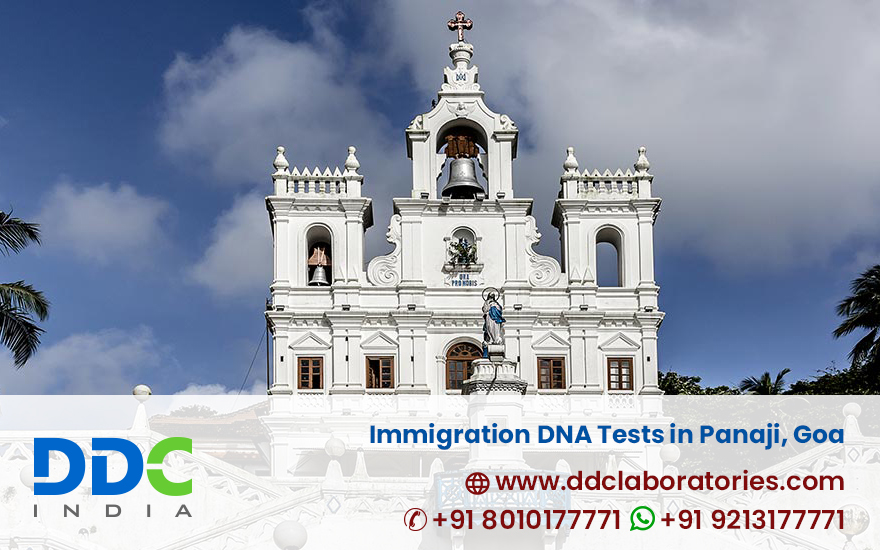 Summary
Author Rating





Brand Name
Product Name
Immigration DNA Tests in Panaji, Goa