Rajkot, a vibrant city in the western Indian state of Gujarat, is known for its rich cultural heritage, thriving industries, and growing population. With globalization and increasing opportunities abroad, many individuals and families from Rajkot aspire to settle in foreign countries for better prospects. However, the immigration process often involves complex requirements, including proving biological relationships in various family contexts. This is where immigration DNA testing comes into play. If you require an Immigration DNA Test in Rajkot, you can place your trust in our services to deliver accurate results and fulfill your testing requirements.
Understanding Immigration DNA Testing
Immigration DNA testing has become a crucial component of the visa and immigration application process worldwide. It primarily establishes biological relationships in cases where official documents or paperwork are insufficient or inconclusive. The common types of relationships tested include paternity, maternity, siblingship, grandparentage, and avuncular.
Why Opt for Immigration DNA Testing in Rajkot?
Documentary Insufficiency – In many immigration cases, documents such as birth certificates or other legal records may be missing or incomplete. DNA testing provides an additional layer of evidence to support your immigration claim.
Strengthens Your Case – Providing a DNA test report can significantly strengthen your immigration case by offering irrefutable proof of biological relationships. This can reduce doubts and expedite the immigration process.
Peace of Mind – For families separated by international borders, the immigration process can be emotionally taxing. DNA testing provides peace of mind by offering a clear path to reunification.
Accurate and Recognized Results – Reputable DNA testing laboratories like ours adhere to international standards and accreditation. Results from such laboratories are widely accepted by immigration authorities worldwide.
How Immigration DNA Testing Works?
Immigration DNA testing involves two primary parties: the beneficiary and the petitioner. The petitioner is the individual sponsoring the immigration process.
When both parties are situated in India, we facilitate sample collection at our dedicated collection centers, ensuring a strict chain of custody.
In cases where one party is located in another country, their sample is collected there. We share the case reference number of the Indian party's sample collection with the individual in the foreign country. They can then have their DNA samples collected by qualified personnel in their location. Once both sets of samples have reached our testing facility, we proceed with the DNA test. The final report is typically released within 8-10 working days.
Required Documents: To facilitate the process, we require 1 government ID proof of tested persons & two recent passport-size photographs.
Why Choose DDC Laboratories India?
When it comes to Immigration DNA Tests in Rajkot, DDC Laboratories India emerges as the preferred choice for numerous compelling reasons. With a wealth of experience in DNA diagnostics, we have been consistently delivering dependable services to the Indian population.
As an AABB-accredited laboratory, we specialize in Immigration DNA Tests for the USA in collaboration with our trusted partner, DNA Diagnostics Center. Moreover, we extend our expertise to offer NATA & MOJ-accredited DNA tests for immigration to Australia and the UK, respectively, ensuring the highest levels of accuracy and reliability.
Moreover, we have established an efficient system for collecting DNA samples from diverse countries, expanding our reach to cater to international clients effectively. Concerned about the cost? We provide Immigration DNA Tests in Rajkot at competitive prices, all while upholding our commitment to precision and trustworthiness. Our services extend beyond Kanpur – whether you need DNA tests in Dwarka, Surat, or other parts of Gujarat, we're here to assist you!
If you have any inquiries or to book an appointment for Immigration DNA Tests in Rajkot, get in touch with us at +91 8010177771 or via WhatsApp at +91 9213177771.
Paternity DNA Test in Rajkot
Maternity DNA Test in Rajkot
Relationship DNA Test in Rajkot
Ancestry DNA Test in Rajkot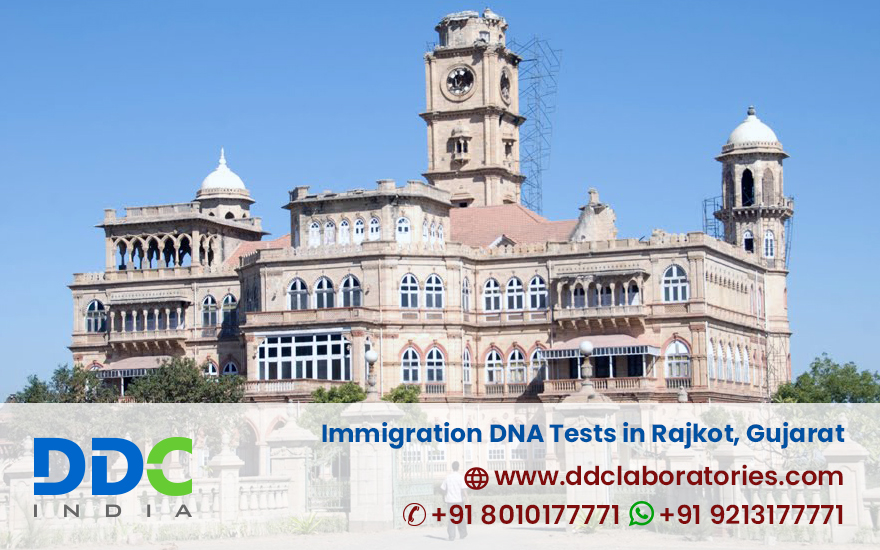 Summary
Author Rating





Brand Name
Product Name
Immigration DNA Tests in Rajkot