DDC Laboratories India has been approved for the most accurate and reasonable Immigration DNA Tests in Vadodara. Our test results can be used legally for immigration cases, applications and appeals. We have 250+ collection centers in India to provide reliable DNA test results. Therefore, we keep in mind all the possibilities and choose wisely your immigration DNA test partner.
Today, when people are sponsoring family members to immigrate, it is necessary to prove the existence of a biological relationship between a petitioner and a beneficiary. Immigration DNA tests also include: paternity, maternity, siblings, grandparents and many other genetic relationships.
We have thousands of DNA sample collection centers around the world and make appointments in the foreign country including the United States, the United Kingdom, Australia, Switzerland, Canada, Dubai, Germany, China and many others as quickly as the next business day. The majority of collection kits for international DNA collections are shipped the next business day after your order.
Once all samples are received, the result is usually available in 5 business days. All DNA tests are performed in our accredited testing laboratory which is AABB, NATA and Ministry of Justice certified, in strict compliance with the requirements of the Immigration Office and Consultants.
If you have questions about the Immigration DNA Tests in Vadodara, do not hesitate to call us at +91 7042446667 or WhatsApp us at: +91 9891167771 and our team of experts will be happy to help you with every step of the DNA test.
Paternity DNA test in Vadodara
Maternity DNA test in Vadodara
Relationship DNA test in Vadodara
Ancestry DNA test in Vadodara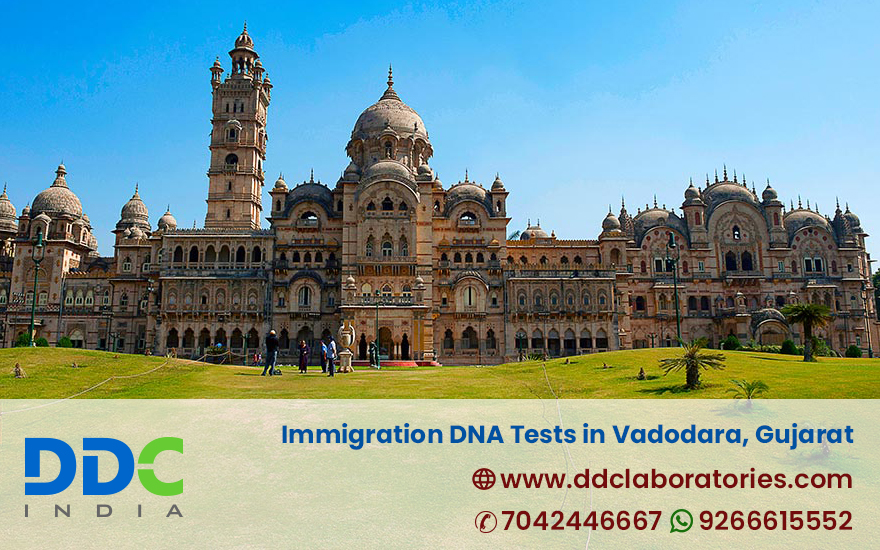 Summary
Author Rating





Brand Name
Product Name
Immigration DNA Tests in Vadodara