Vadodara, or Baroda, is a cosmopolitan city in Gujarat. Nowadays, more & more people in Vadodara migrate to new countries looking for better opportunities, and they often want their families to join them. In such cases, the DNA test can be an essential tool for securing a dependent visa. Therein, it is recommended to get an Immigration DNA test before applying for the visa and avoid visa refusal in one go. If you are a Vadodara resident, you can get accurate and reliable Immigration DNA tests in Vadodara at competitive prices.
Requirements to Get an Immigration DNA Test in Vadodara
After confirming your order, you must bring your documents for the sample collection. You must bring a government-issued photo ID, like a driver's license or passport, two clear photocopies, and two passport-sized colored photographs.
Following this, we collect your sample in Vadodara or a nearby location, generating a case reference number. If the other party lives abroad, we share this case reference number with them, and they have to submit their sample in their respective country.
Once both samples reach our laboratory, the reports are delivered directly to the appropriate Immigration Office, Sponsors, and/or Legal Counsel within 8-10 business days. You can request a printed copy of your DNA test report for yourself, which we will send you via courier service.
How are We Different?
We are the only DNA testing company in India to provide accredited Immigration DNA Tests in India. Here you can get the following types of accredited DNA Tests in Vadodara for immigration purposes:
AABB-accredited DNA Tests for US immigration
NATA-accredited DNA Tests for Australian immigration
CIC-accredited Immigration DNA Tests for Canada
MOJ-accredited Immigration DNA Tests for the UK
Besides, we also offer embassy-approved DNA tests in Vadodara for Germany, Japan, Switzerland, New Zealand, Dubai immigration, and many more.
Why Choose DDC Laboratories India for an Immigration DNA Test?
We are among the most sought-after and chosen destinations for DNA testing services, including DNA Tests in Vadodara and India for immigration cases. Here's why you should choose us too.
For immigration purposes, we provide different types of accredited DNA tests in Vadodara, all under one roof.
We have been working worldwide with Embassies and Consulates. As a result, our DNA testing fully meets the requirements of the Immigration Departments and Embassies of various countries. This makes our DNA test reports globally admissible.
Based on the relationship with the sponsor, you can get an Immigration DNA Test in Vadodara for the following relationships:
Paternity
Maternity
Siblingship
Grandparentage
Avuncular
We also provide DNA Tests in Surat, Ahmedabad and other areas of Gujarat for relationship identification, immigration, and various other purposes. With over 250+ collection centers, we are reaching to even the remotest parts of India and in many other countries.
If you are also planning to settle abroad and searching for Immigration DNA Tests in Vadodara, Gujarat, call us at +91 8010177771 or WhatsApp at +91 9213177771 to schedule an appointment.
Paternity DNA Test in Vadodara
Maternity DNA Test in Vadodara
Relationship DNA Test in Vadodara
Ancestry DNA Test in Vadodara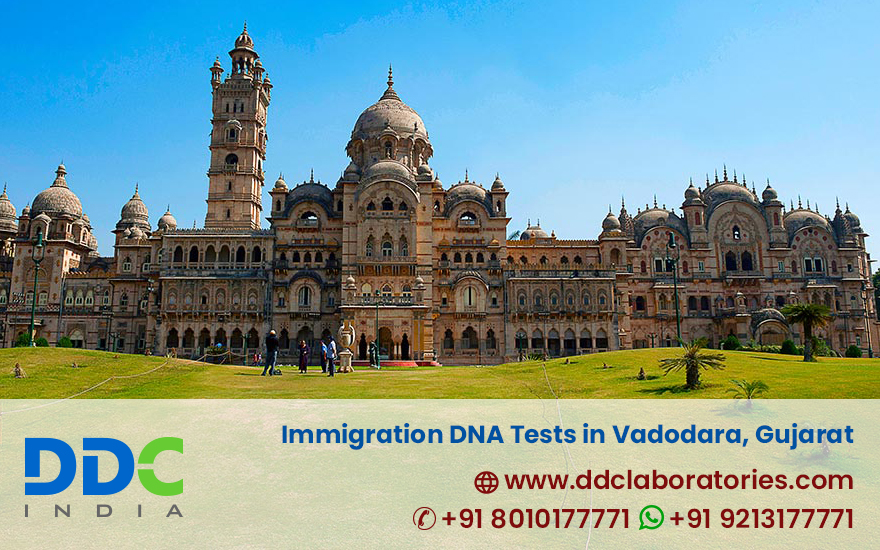 Summary
Author Rating





Brand Name
Product Name
Immigration DNA Tests in Vadodara