For those who are looking for authentic and trusted laboratory for Immigration DNA Testing in India, DDC laboratories India is the name well known for its services. With its collection centers all over India, we have now started providing best Immigration DNA Tests in Varanasi, Uttar Pradesh. We already have a sample collection center in Varanasi.
We have developed a nation wide network with doctors, hospitals, medical centers, embassies across India for Indian immigration cases. Our testing lab is AABB (American Association of Blood Banks), NATA (National Association of Testing Authorities, Australia), Ministry of Justice (U.K) and CLIA (Clinical Laboratory Improvement Amendments) certified. We have more than 250 collection centers across India to provide reliable DNA test results.
We support you or a family member in DNA Testing process for Visa Application to the US, UK, Australia, New Zealand and many other countries from India and helps in confirming that individuals are biologically related to other person. Our sample collection is a simple procedure and will be performed by an expert who will collect the DNA samples of those being tested with a non-invasive buccal mouth swab.
We keep in contact with customers throughout each stage and professionally confirm appointments and how the testing procedure is structured. For further questions related to Immigration DNA Tests in Varanasi, Uttar Pradesh, please contact our customer representatives at +91 8010177771 or WhatsApp us: +91 9213177771 and fix your appointment.
Paternity DNA Test in Varanasi, Uttar Pradesh
Maternity DNA Test in Varanasi, Uttar Pradesh
Relationship DNA Test in Varanasi, Uttar Pradesh
Ancestry DNA Test in Varanasi, Uttar Pradesh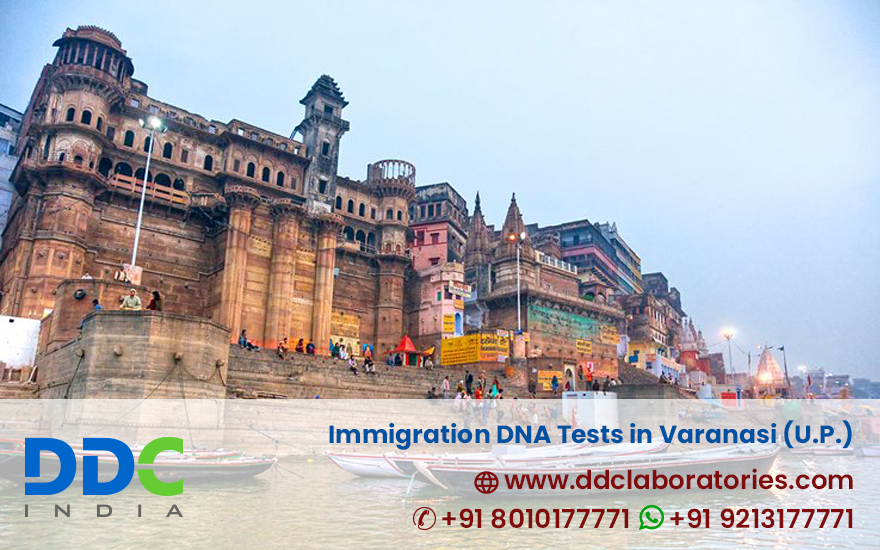 Summary
Author Rating





Brand Name
Product Name
Immigration DNA Tests in Varanasi