As one of the leading DNA Testing Centers for Immigration DNA Testing in India, DDC Laboratories India provide the same level of expertise, authenticity and accurate testing standards at our all centers. With the increasing demand for Immigration DNA Testing Services, we started providing best Immigration DNA Tests in Vasco Da Gama, Goa.
We offer a diverse range of DNA Testing Services for Immigration such as Paternity, Maternity to establish a biological relationship between children and parents. We perform embassy-approved DNA Testing for Immigration applications to prove the biological relationship between a petitioner and a recipient for countries such as the United Kingdom, United States, Australia, Canada, France, Malaysia, Spain and other countries for the purpose of obtaining a visa.
We are specialized in immigration DNA Testing Services and our testing lab is Ministry of Justice (U.K), NATA (National Association of Testing Authorities, Australia) and CLIA (Clinical Laboratory Improvement Amendments) certified.
DDC Laboratories India (DDC) is associated with DNA Diagnostics Center Inc. USA, the world leader in AABB (American Association of Blood Banks) accredited DNA Testing Services. We believe that Immigration DNA Testing should be accessible, affordable and accessible to all. We provide almost 100% accuracy in test results at affordable costs and in accordance with immigration departments and embassies guidelines.
For further queries related to Immigration DNA Tests in Vasco Da Gama, Goa, please call us at: +91 8010177771 or WhatsApp us at: +91 9213177771 and fix the appointment.
Paternity DNA Test in Vasco Da Gama
Maternity DNA Test in Vasco Da Gama
Relationship DNA Test in Vasco Da Gama
Ancestry DNA Test in Vasco Da Gama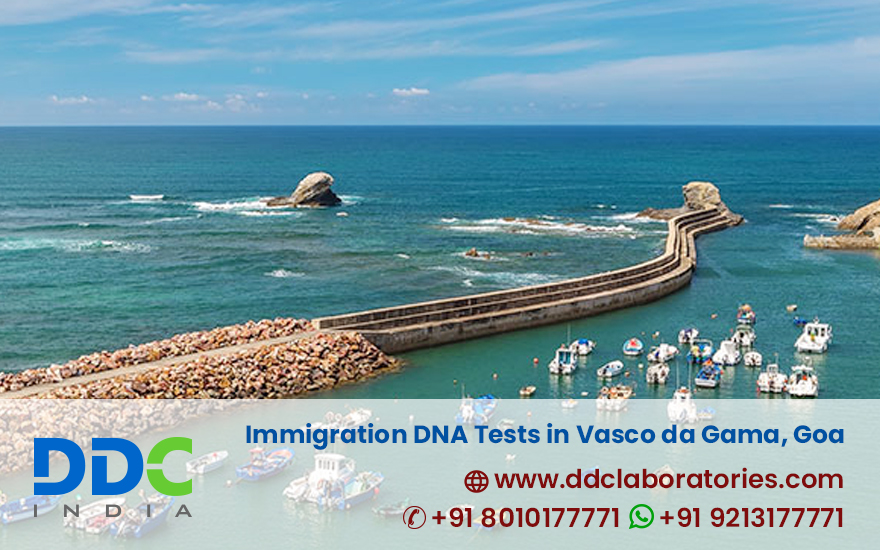 Summary
Author Rating





Brand Name
Product Name
Immigration DNA Tests in Vasco da Gama, Goa