The Indian state of West Bengal is one of the most culturally rich states. The whole world is slowly becoming a global family due to the advancement of information technology. Moreover, due to the lucrative career opportunities abroad, the number of W. Bengal residents trying to shift abroad to different countries is exponentially rising. Thanks to the easily available and affordable Immigration DNA testing services, more and more people from the state are able to realize their dream in real life. However, there also remains the risk of visa refusals due to the lack of relationship proof between the sponsor and the beneficiary. To protect yourself from this situation, you should consider getting immigration testing before applying for the visa. Residents of W. Bengal can get accredited Immigration DNA Tests in Bardhaman with accurate and dependable DNA test reports.
Type of Accreditations to do Immigration DNA Tests in Bardhaman and India
At DDC Laboratories India, we are accredited by various reputed agencies, including-
AABB – The Association for the Advancement of Blood and Biotherapies, U.S.A.
Home Office – The Govt. of U.K.
MOJ – The Ministry of Justice, U.K.
NATA – National Association of Testing Authorities, Australia
CIC – Citizenship and Immigration Canada
CLIA – Clinical Laboratory Improvement Amendments, U.S.A.
DDC Laboratories India is the only company to provide NATA, MOJ & Home Office, and CIC-accredited Immigration DNA Tests in Bardhaman, other parts of the W. Bengal, and India.
Besides these, we also provide DNA Tests for Japan, Thailand, France, Singapore, Malaysia, Germany, Italy, Dubai, Switzerland, and many other countries.
For Which Relationships, Can I Get an Immigration DNA Tests in Bardhaman?
You can get the following types of DNA Tests in Bardhaman, W. Bengal, depending upon your relationship with the sponsor/beneficiary –
Paternity DNA Test for Immigration
Maternity DNA Test for Immigration
Grandparentage DNA Test for Immigration
Siblingship DNA Test for Immigration
Kinship DNA Test for Immigration
You can easily get a test suiting your needs by reaching us at the numbers provided at the end of this page.
Why DDC Laboratories India for Immigration DNA Tests in Bardhaman and India?
The first reason behind choosing DDC Laboratories India for Immigration DNA Tests in Bardhaman or elsewhere in India is the facility of accredited Immigration testing services. In India, only we provide accredited Immigration DNA tests for different countries.
Highly educated and experienced technical staff, rigorously trained customer service representatives, and a great field force of sample collection agents across India, including various parts of West Bengal, are some of the reasons to choose us for an Immigration DNA Test in Bardhaman.
We have the fastest turnaround time, providing you the DNA test report for your Immigration DNA Test within 8-10 business days.
For our international clients, we arrange the sample collection in their country. Furthermore, with 250+ collection centers in India and abroad, our DNA Testing Services are easily accessible by many.
We offer DNA Testing of Paternity, Maternity, Fraternity, and biological relationships between grandparents for immigration purposes. We ensure a personalized consultation by our professionals and guide our customers in the test process, taking into account the complete verification and accuracy.
Besides Bardhaman, you can also get our immigration and other DNA Tests in Kolkata. Depending upon your location, you can choose from either of the locations for your sample collection.
For any further queries about Immigration DNA Tests in Bardhaman, West Bengal, reach us at +91 8010177771 (Call), +91 9213177771 (WhatsApp)
Paternity DNA Test in Bardhaman
Maternity DNA Test in Bardhaman
Relationship DNA Test in Bardhaman
Ancestry DNA Test in Bardhaman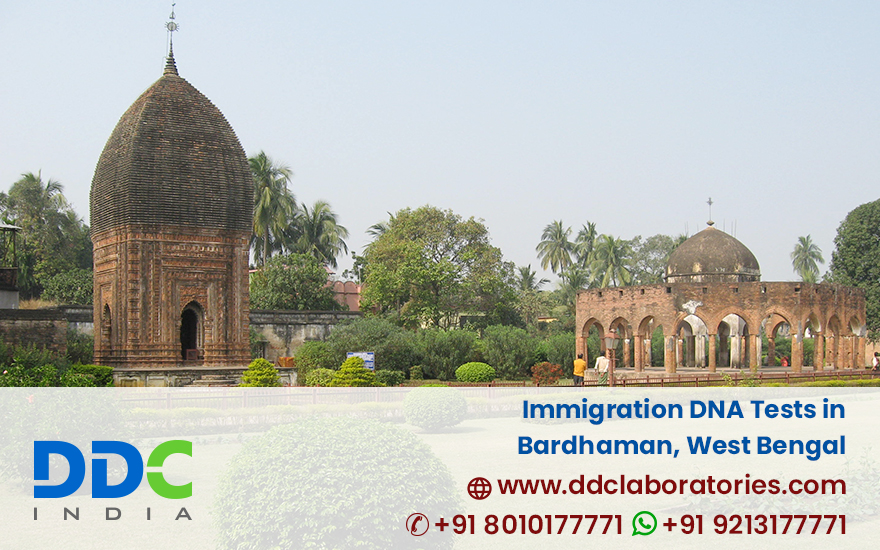 Summary
Author Rating





Brand Name
Immigration DNA Tests in Bardhaman, West Bengal
Product Name