We, DDC laboratories India, are a reliable name for providing the best and most accredited Immigration DNA Testing services in India. We offer accurate and reliable Immigration DNA test reports, admissible in the embassies of various countries. West Bengal residents can now get an Immigration DNA tests in Kolkata for their destination country. If you want to get a DNA Test in Kolkata for immigration purpose, you have arrived at the right place. We are guiding you on various aspects of immigration DNA testing and how choosing us for an Immigration DNA test in Kolkata can be your best decision.
What's the need for an Immigration DNA Test?
As per immigration laws of different countries, it is not mandatory for an immigration applicant to prove their genetic (biological) relationship with their sponsor. This is especially helpful when your primary documents do not suffice in relating you with your sponsor (a relative who is sponsoring your immigrant visa).
In the case of a lack of relationship proof, the immigration authorities may refuse your visa application. In that case, you will have to get an Immigration DNA test and reapply along with the DNA test report.
Process of Immigration DNA Testing
If you are a first-time applicant, we recommend you get the DNA test beforehand and attach the report along with the primary documents. Here is how the process works.
Sample collection
The party living in India, mostly the beneficiary (applicant), gives their sample in India itself. Then, the case number generated for the Indian party is shared with the foreign party. The latter then gets his/her DNA sample collected in their respective country by qualified personnel.
After the sample collection of both parties, they are sent to our testing facility for analysis.
Why DDC Laboratories India for Immigration DNA Tests in Kolkata?
With our Kolkata center, you can now get a DNA test in the state capital. Besides, you can also get Immigration and other types of DNA Tests in the Bardhaman district.
We are the only Indian company to provide MOJ and NATA-accredited Immigration DNA Tests in Kolkata and other parts of West Bengal. Our services and the test reports match all the required standards for accredited Immigration DNA testing.
With our experienced and highly skilled technical staff, and a state-of-the-art testing facility equipped with modern and the latest machinery, you get 100% accuracy in your test report.
We can arrange the sample collection of the parties living abroad in their respective country. This way, we ensure you a flawless experience and complete satisfaction getting an Immigration DNA test in Kolkata.
Want to learn more or book your Immigration DNA Test in Kolkata or elsewhere in India? Contact us today! Call on +91 8010177771 or WhatsApp +91 9213177771.
Paternity DNA Test in Kolkata
Maternity DNA Test in Kolkata
Relationship DNA Test in Kolkata
Ancestry DNA Test in Kolkata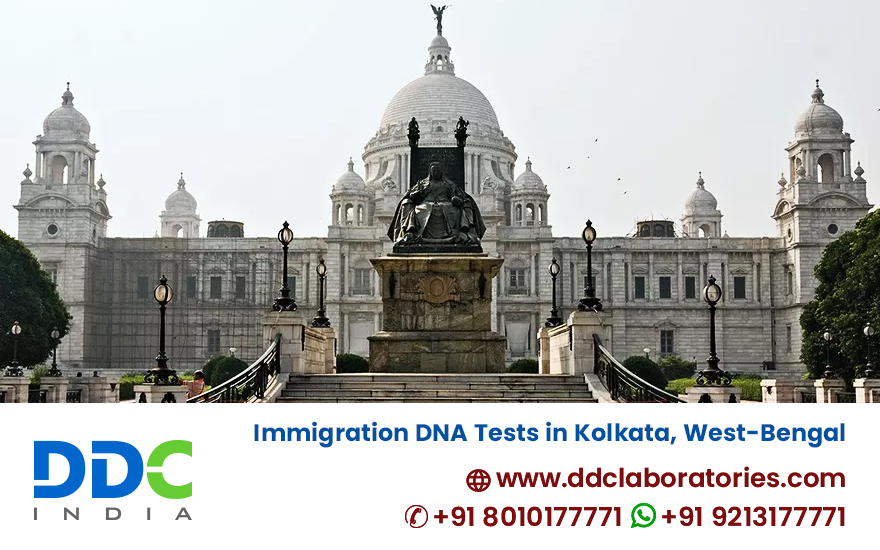 Summary
Author Rating





Brand Name
Product Name
Immigration DNA Tests in Kolkata, West Bengal