Nestled amidst the enchanting Himalayan foothills, Dehradun, the capital of Uttarakhand, has evolved into much more than a scenic destination. Over the years, this city has witnessed a significant transformation in the immigration landscape. As immigration to diverse corners of the globe gains momentum, Dehradun finds itself at the forefront of this global trend. The burning desire to explore new horizons, pursue higher education, and reunite with family members living overseas has breathed life into the immigration landscape. At the heart of this transformation lies the growing demand for immigration DNA tests in Dehradun. These tests serve as a crucial step in the immigration process, helping individuals prove their biological relationships and secure visas to join their loved ones abroad.
How are DNA Samples Collected for Immigration DNA Testing?
In cases where a visa application lacks an immigration DNA test and the primary documents fail to establish a clear genetic relationship with the petitioner, the immigration officer may decline the visa request.
The immigration process involves two key parties: the applicant or beneficiary and the sponsor or petitioner.
Once the applicant schedules a DNA test in Dehradun, a unique case number is generated and subsequently shared with the petitioner. The petitioner, with this case number, proceeds to provide a DNA sample at an authorized collection center or the embassy, using the same case number for reference. When the results of both DNA tests align, it paves the way for the applicant to proceed with their visa application.
Essential Documentation
To commence this journey, essential documents must be prepared, including:
A government-approved ID card, accompanied by its photocopy.
Two colored passport-sized photographs of both the applicant and the petitioner.
Why Get Immigration DNA Tests in Dehradun from DDC Laboratories India?
As a leading provider of DNA testing services, DDC Laboratories India has earned its reputation as the top choice for immigration DNA testing nationwide. We provide our services across India from our 250+ local & international collection centers. Here, we provide NATA & MOJ accredited Immigration DNA Tests in Dehradun and other parts of the city. Moreover, aligned with the globally renowned DNA Diagnostic Center, we conduct AABB-accredited Immigration DNA tests for the US.
Our track record speaks for itself when it comes to providing precise, trustworthy, and accredited Immigration DNA Tests in Dehradun. These tests are available for the following countries:
UAE
Canada
China
Singapore
New Zealand
European and many other countries.
For our international clients, we facilitate sample collection in their respective countries, streamlining the testing process.
Our Immigration DNA Tests in Dehradun come in various configurations tailored to the unique petitioner-to-beneficiary relationships. We offer tests for paternity, maternity, siblingship, grandparentage, and kinship, ensuring comprehensive solutions for your immigration needs.
A team of proficient experts is at your service, offering comprehensive guidance on obtaining an Immigration DNA Test in Dehradun or any location within India. Besides, you can get our DNA Tests in Chandigarh, UP, and other states.
For further inquiries or to book your Immigration DNA Test from the comfort of your home, reach us at +91 8010177771 or WhatsApp at +91 9213177771.
Paternity DNA Test in Dehradun
Maternity DNA Test in Dehradun
Relationship DNA Test in Dehradun
Ancestry DNA Test in Dehradun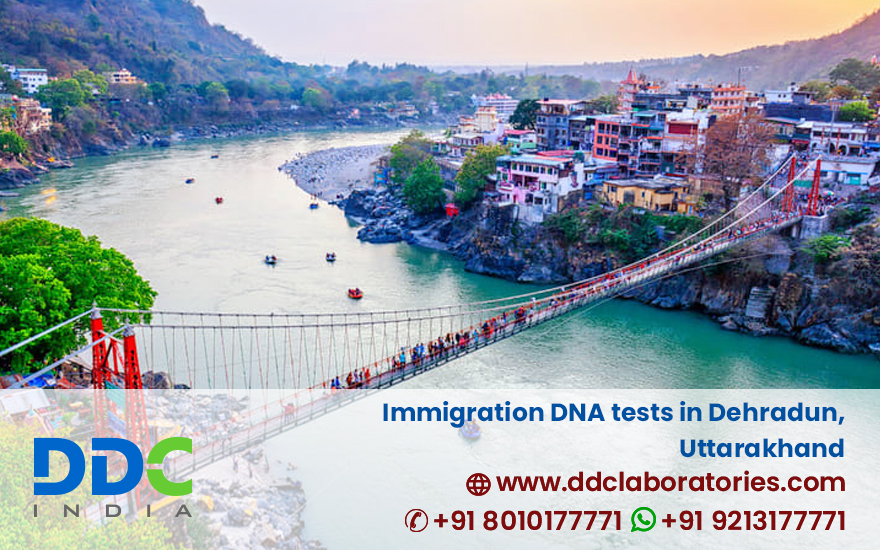 Summary
Author Rating





Brand Name
Product Name
Immigration DNA Tests in Dehradun