Faridabad is a southeastern town in the state of Haryana. It is a major industrial city in the state. This city offers class-leading and internationally recognized services in various sectors. Similarly, if you are looking for Immigration DNA Tests in Faridabad & nearby areas, we can help! In India, immigration DNA tests are among the most widely used DNA testing services. Hundreds of thousands of people in India each year apply for visas to their dream countries so they can reunite with loved ones & settle there. But, most people face visa refusals due to a lack of paper works. DNA testing can provide a reliable way of relieving a person's identity for immigration purposes. Immigration DNA Tests in Faridabad can be helpful tools for individuals wishing to establish biological links for family reunification in one go.
An accredited Immigration DNA Test in Faridabad can be done in different configurations based on the relationship involved in the immigration process, for example-
Maternity DNA Test
Paternity DNA Test
Siblingship DNA Test
Grandparentage DNA Test
Avuncular DNA Test
Kinship DNA Test
A visa rejection would be the worst nightmare. Spending countless hours and effort seeking a visa and then seeing it rejected is an agonizing experience. But you can reapply with an Immigration DNA Tests report.
Process of Immigration DNA Tests in Faridabad and How Does it Decide the DNA Test Cost?
The whole process of DNA testing starts with the sample collection. First, both the involved parties give their DNA sample for the test, and the rest of the steps follow.
Buccal swabs are used for Immigration DNA tests in Faridabad and India. However, you can also give the blood sample for the test. But, the high risk of container breakage and, thus, spillage of the sample can require resampling, which adds up to the DNA Test cost in Faridabad, or anywhere else for that matter.
Then, a case number is generated. That case number is shared with the person living in the foreign country, where he/she has to get the sample collected under the same case number.
Once both samples are received at the testing lab, DNA testing is carried out. If the relationship is confirmed, the applicant is informed to proceed with the application process.
Documents Required: 1 government-approved ID proof & two recent passport-size colored photographs of the tested persons.
DDC Laboratories India – For Accredited Immigration DNA Tests in Faridabad
DDC Laboratories India is among the best labs for DNA tests, including the Immigration DNA Tests in Faridabad. Moreover, we are among the best in the DNA Diagnostics field and have been offering our services to the Indian public for many years successfully with 100% customer satisfaction. We have been providing accredited Immigration DNA tests in Faridabad & also for various countries. Our testing lab is accredited by –
NATA (National Association of Testing Authorities) – For Australia Immigrants
AABB (Association for the Advancement of Blood & Biotherapies) – For the USA Immigrants
MOJ (Ministry of Justice) – For the UK Immigrants
CIC (Citizenship and Immigration Canada) – For Canada Immigrants
CLIA (Clinical Laboratory Improvement Amendments)
ANAB (ANSI-ASQ National Accreditation Board)
The highest standards, latest technology & equipment, highly qualified staff, excellent customer support, and the fastest report delivery make us among the most trusted & leading DNA testing labs/companies for an accurate and reliable Immigration DNA test in Faridabad, Haryana. We also provide DNA Tests in Karnal and Panchkula areas for relationship identification, immigration, and various other purposes.
For further queries about Immigration DNA tests in Faridabad, call us at +91 8010177771 or WhatsApp at +91 9213177771 to schedule an appointment.
Paternity DNA Test in Faridabad
Maternity DNA Test in Faridabad
Relationship DNA Test in Faridabad
Ancestry DNA Test in Faridabad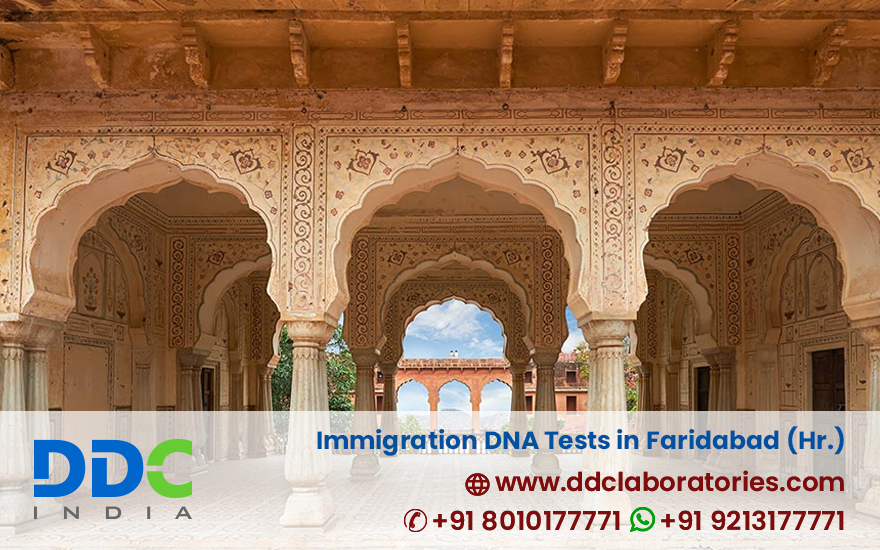 Summary
Author Rating





Brand Name
Product Name
Immigration DNA Tests in Faridabad