Getting Immigration DNA Tests in Kochi is now easy and accessible to its residents. Kerala is one of the most popular tourist attraction sites in India. Earlier known as Cochin, the city now provides the option to get the most accurate and reliable Immigration DNA Tests in Kochi, and other parts of Kerala. So, why is an Immigration DNA Test so important, anyway? Here are the reasons.
Significance of Immigration Testing & where to get Immigration DNA Tests in Kochi?
In the case of the lack of stringent immigration laws, people used to forge false identification documents and often got away with this act. This gave rise to various crimes; human trafficking, terrorism, etc., to name a few. The countries were not so quick to realize the need and significance of DNA Testing For Immigration cases.
Today, immigration laws generally allow only a blood relative to get an immigrant visa and live with their relatives in a foreign country. Getting an Immigration DNA Test in Kochi to prove the biological relationship between the parties is now easily accessible.
Sample collection for Immigration DNA Tests in Kochi
The involved parties in an immigration case need to prove their biological relationship for the immigration to be successful. The party living in a foreign country and sponsoring their relatives needs to get the DNA test for immigration. In the case of a lack of relationship proof, the immigration officer may deliberately reject the visa application.
The sampling process
The Indian party's DNA sample is collected at our testing facility in Kochi. Then a case reference number is generated, which is shared with the other party in the destination country.
This party then uses the same case number and gets his/her sample collected by an authorized person in their respective country. Once we have received both samples at our testing facility, we conduct the DNA testing.
If both the DNA profiles are a match, the relationship is confirmed, and the immigration procedures and formalities can now proceed. This concludes the process of Immigration DNA testing. If you are from Kochi and are applying for your visa, we recommend you to get your Immigration DNA Test in Kochi beforehand so that you can save yourself from the visa refusals.
Why choose DDC Laboratories India for Immigration DNA Tests in Kochi and India?
At DDC Laboratories India, we are the only providers of accredited Immigration DNA tests in Kochi and India. We have been successfully helping the people of Kerala & India and our international clients to get the best of the DNA testing services in Kochi and India.
Apart from that, we're present in most of the major Indian cities, including DNA Tests in Hyderabad, DNA Tests in Pune, Delhi, Ludhiana, Vadodara, Kolkata and more.
Here, we provide you Immigration DNA Tests in Kochi and India for the following relationships:
Paternity
Maternity
Siblingship
Grandparentage
Kinship
Our testing laboratory is accredited by the AABB, M.O.J., and NATA  for the USA, UK, and Australia respectively.
We are providing our clients, with the highest and most accurate and dependable Immigration DNA Tests in Kochi and other parts of Kerala, India, and the world.
We arrange DNA sample collection of our parties in other countries, like, the UK, the USA, France, Canada, Dubai,  Italy, and others.
If you have any other questions about Immigration DNA Tests, call us at +91 8010177771 or WhatsApp at +91 9213177771.
Paternity DNA Test in Kochi
Maternity DNA Test in Kochi
Relationship DNA Test in Kochi
Ancestry DNA Test in Kochi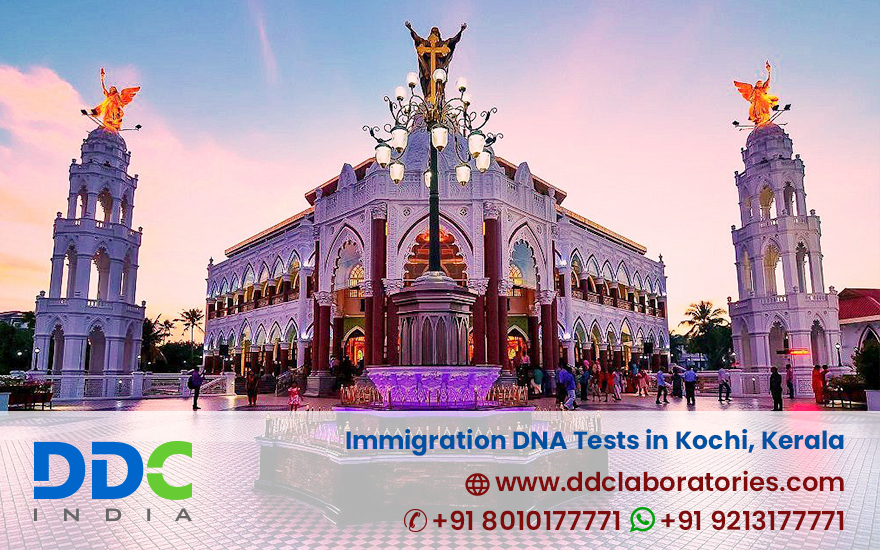 Summary
Author Rating





Brand Name
Product Name
Immigration DNA Tests in Kochi