Noida is located in the state of Uttar Pradesh. It is a thriving commercial hub right next to India's capital. This ultramodern city is proof of the country's achievements in the developmental sphere. If you are in search of accurate and reliable Immigration DNA tests in Noida, you are at the right spot. DNA testing can provide a reliable way of relieving a person's identity for immigration purposes. Although immigration authorities still accept traditional forms of identification, DNA tests have become the gold standard of identification methods. In addition, they can be helpful tools for individuals wishing to establish biological links for family reunification in one go.
An accredited Immigration DNA Tests in Noida can be used for different configurations according to the relationships involved:
Paternal DNA Test
Maternal DNA Test
Siblingship DNA Test
Kinship DNA Test
Avuncular DNA Test
Grandparentage DNA Test
Process of Immigration DNA Tests in Noida
Say, in a case where you have applied for the visa without an Immigration DNA test & your primary documents are unable to prove your genetic relationship with the petitioner, the immigration officer may reject your visa application.
There are two parties in the Immigration process – the applicant or the beneficiary and the sponsor or the petitioner.
After the applicant schedules a DNA Test in Noida, a case number is generated, which will be shared with the petitioner with a sample collection kit. The petitioner can then submit a DNA sample to an authorized sample collection center or the embassy using the same case number. If the two DNA tests match, the applicant is granted for further visa application.
Required Documents: 1 Govt.-approved ID proof of tested persons & two recent passport-size photographs of each tested person
Why DDC Laboratories India for Accredited Immigration DNA Tests in Noida?
At DDC Laboratories India, you get accurate and reliable Immigration DNA Tests in Noida. We hold an excellent track record of successfully providing immigration DNA testing services in India for many years.
The following are some key features that make us desirable for accredited Immigration DNA Tests in Noida:
We are among India's most trusted DNA testing companies for accredited Immigration DNA Tests in India and abroad.
Our testing laboratory is accredited by the Home Office of the Govt. of the UK and the Ministry of Justice (MOJ), National Association of Testing Authorities (NATA), Citizenship and Immigration Canada (CIC), and Clinical Laboratory Improvement Amendments (CLIA). Furthermore, we offer AABB Immigration DNA Tests for the USA through our trusted partner, DNA Diagnostics Center.
You can get accredited Immigration DNA Tests in Noida for various countries like Thailand, the US, the UK, Switzerland, Germany, France, Ireland, etc.
You can visit our localized DNA collection centers in several Indian cities to give your samples.
With the fastest turnaround time, we can provide the Immigration DNA test results within 8-10 business days.
Immigration DNA tests are vital because many visa applications are rejected for lack of documentation. You can use DNA Immigration tests to prevent refusals and add weight to your application if you submit them with the primary document. Therefore, we highly recommend getting a DNA test before applying for immigration to ensure your success on the first try.
We have covered you if you are concerned about the procedure, cost, accuracy, and reliability of getting an Immigration DNA Test in Noida. Moreover, we are among the leading DNA testing companies offering various types of Immigration DNA Tests in Agra and other cities of Uttar Pradesh.
For further queries, contact us at +91 8010177771 or WhatsApp at +91 9213177771 to schedule an appointment.
Paternity DNA Test in Noida
Maternity DNA Test in Noida
Relationship DNA Test in Noida
Ancestry DNA Test in Noida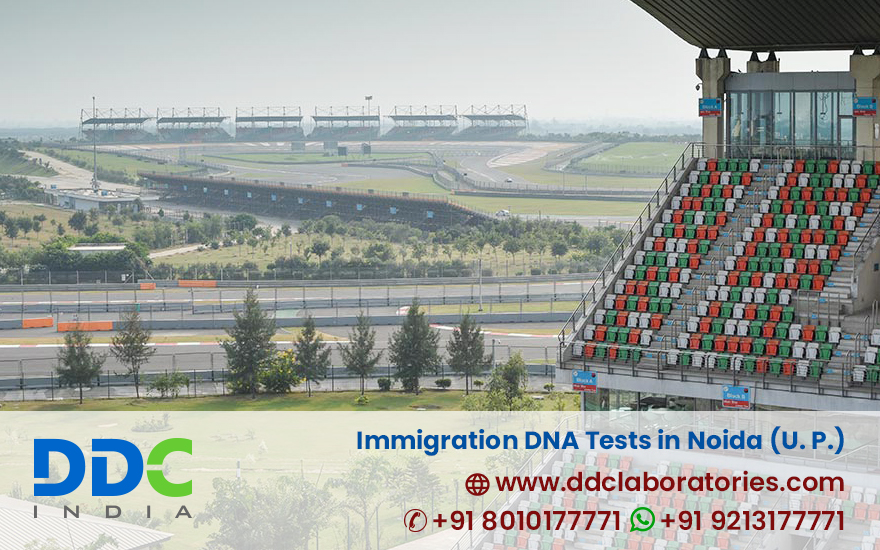 Summary
Author Rating





Brand Name
Product Name
Immigration DNA Tests in Noida, Uttar Pradesh