Nestled in the heart of Haryana, Panipat holds a rich historical significance as a city that witnessed pivotal battles. Today, amidst its cultural heritage, Panipat is witnessing a growing demand for Immigration DNA tests. As globalization continues to connect families across borders, the need for accurate and reliable Immigration DNA testing is on the rise. Immigration DNA tests in Panipat play a crucial role in verifying biological relationships, aiding immigration processes, and reuniting families. Having served the state of Haryana for an extended period, we extend our services to Panipat as well. As we proceed, it's essential to familiarize yourself with a few terms that will enhance your understanding of the information provided on this page.
Terminologies
Petitioner – This term refers to an individual who is a lawful permanent citizen of a foreign country (outside India) and is sponsoring the immigration of one or more of their family members.
Beneficiary – The person seeking an immigrant visa is referred to as the beneficiary.
Accredited Immigration Testing – Numerous countries rigorously monitor DNA testing lab/company standards, testing procedures, methodologies, etc. Accreditation is often a prerequisite for labs/companies conducting Immigration DNA tests for specific countries.
Significance of Immigration Testing
In times when immigration laws lacked stringency, individuals used to fabricate false identification documents, including birth certificates, often escaping consequences. This created a breeding ground for numerous crimes, such as human trafficking and terrorism. Initially, countries were slower to recognize the necessity and importance of DNA testing for immigration scenarios.
Today, immigration laws typically permit only blood relatives to obtain immigrant visas and reside with family abroad. Acquiring an Immigration DNA test in Panipat has become readily available & accessible, ensuring the integrity of immigration proceedings.
Sample Collection for Immigration DNA Tests
If you reside in Haryana and seek an Immigration DNA Test in Panipat, the initial step involves undergoing DNA sample collection.
Your sample collection takes place within India, conducted under strict chain of custody protocols by our proficient sample collection agents. During this process, you are required to provide two passport-sized photographs and a photocopy of a government-issued photo identification. It's crucial to have the original ID for verification during the collection.
After your sample collection, a unique case number is generated, which is then shared with your foreign-residing sponsor. There, they can arrange their sample collection through an authorized representative.
Once both samples reach our testing facility, comprehensive DNA testing is conducted. Upon confirming a match between the two samples, the embassy/consular office will prompt you to proceed with your visa application process. We strongly recommend undergoing the DNA test beforehand and submitting the report alongside your primary documentation to avoid visa-related obstacles.
Why Get Immigration DNA Tests in Panipat from DDC Laboratories India?
As a prominent provider of DNA testing services in India, we stand as the preferred choice for immigration DNA testing nationwide, including Panipat. Our extensive network encompasses over 250 local and international collection centers, ensuring comprehensive coverage across the country.
Aligned with the globally renowned DNA Diagnostic Center, we conduct AABB-accredited Immigration DNA tests for the US, solidifying our commitment to quality. Moreover, we offer NATA & MOJ accreditation, catering to Australia and the UK, respectively, underscoring our international expertise.
For our international clients, we streamline sample collection arrangements within their respective countries, simplifying the process. Our array of Immigration DNA Tests in Panipat accommodates various petitioner-to-beneficiary relationships, including paternity, maternity, siblingship, grandparentage, and kinship tests.
A team of proficient experts is at your service, offering comprehensive guidance on obtaining an Immigration DNA Test in Panipat or any location within India. Beyond Panipat, you can get our DNA Tests in Sonipat, Rohtak and other areas.
For further queries, reach out to us at +91 8010177771 or WhatsApp at +91 9213177771. Your seamless testing experience awaits!
Paternity DNA Test in Panipat
Maternity DNA Test in Panipat
Relationship DNA Test in Panipat
Ancestry DNA Test in Panipat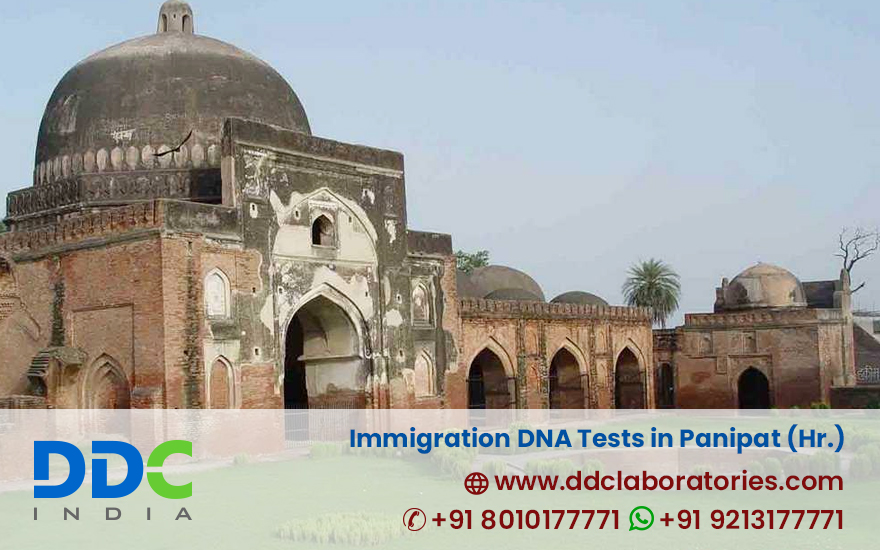 Summary
Author Rating





Brand Name
Product Name
Immigration DNA Tests in Panipat, Haryana