Sonipat, located in the state of Haryana, is a bustling city with a rich historical & cultural heritage. Over the years, Sonipat has witnessed a significant rise in immigration cases, leading to increased demand for Immigration DNA tests in the region. As a result of globalization and financial opportunities, more individuals from Sonipat are migrating to different countries for education, work, family, or a better life. The easy availability of Immigration DNA Tests in Sonipat is now helping the residents of Haryana to make their immigration dreams come true. Immigration DNA testing holds importance not only in visa refusal cases but also for new applicants. Thus, it is advisable to undergo an immigration DNA test and submit the DNA test report along with your visa application.
Understanding the Process of Immigration DNA Tests in Sonipat
The process of Immigration DNA tests in Sonipat follows a standard protocol similar to other locations in India. It begins with the collection of DNA samples from the parties involved.
Given the involvement of two parties in immigration, it is crucial to comprehend the sample collection procedure for each. But first, you need to know who is who? The beneficiary refers to the individual applying for an immigrant visa, while the petitioner is the person sponsoring the visa, typically a citizen of a foreign country who wishes to bring their relatives to their new residence.
If both parties are residing in India, the DNA sample collection for the Immigration DNA test can be conducted at one of our collection centers in Sonipat or any other convenient location in Haryana.
However, if the petitioner already resides in a foreign country, they will receive a case reference number from our laboratory. Using this case number, they can arrange for their DNA sample collection in their respective country.
After collecting DNA samples from both parties, we send them to our testing facility where we conduct a DNA analysis.
For Which Countries Can You Get Immigration DNA Tests in Sonipat?
We offer Immigration DNA tests in Sonipat for various countries, including popular destinations like Canada, the United Kingdom, Australia, and the United States. For US immigration cases, we collaborate with our trusted partner, DNA Diagnostics Center, to provide AABB-accredited Immigration DNA tests. Similarly, we offer MOJ-accredited Immigration DNA tests for the United Kingdom and NATA-accredited tests for Australia.
In addition, we provide embassy-approved Immigration DNA tests for countries such as Dubai, China, Germany, Thailand, New Zealand, and several European nations.
Why DDC Laboratories India for Immigration DNA Testing Services?
At DDC Laboratories India, we have established strong partnerships with immigration agencies worldwide, enabling us to offer a wide range of Immigration DNA Tests in Sonipat. With us, clients have the flexibility to select the specific test they require, all conveniently available under one roof.
With over 250 collection centers both within India and internationally, we have successfully served clients from various corners of the globe. For those residing outside of India, we can facilitate DNA sample collection in their respective countries, ensuring a seamless experience.
Additionally, we offer DNA tests in Rohtak, Panipat, and other parts of Haryana for relationship identification, ancestry, and a multitude of other purposes.
Our dedicated team of experts is readily available to address any inquiries related to immigration DNA testing. If you have any questions or require assistance regarding Immigration DNA Tests in Sonipat, Haryana, please feel free to contact us at +91 8010177771 or WhatsApp at +91 9213177771.
Paternity DNA Test in Sonipat
Maternity DNA Test in Sonipat
Relationship DNA Test in Sonipat
Ancestry DNA Test in Sonipat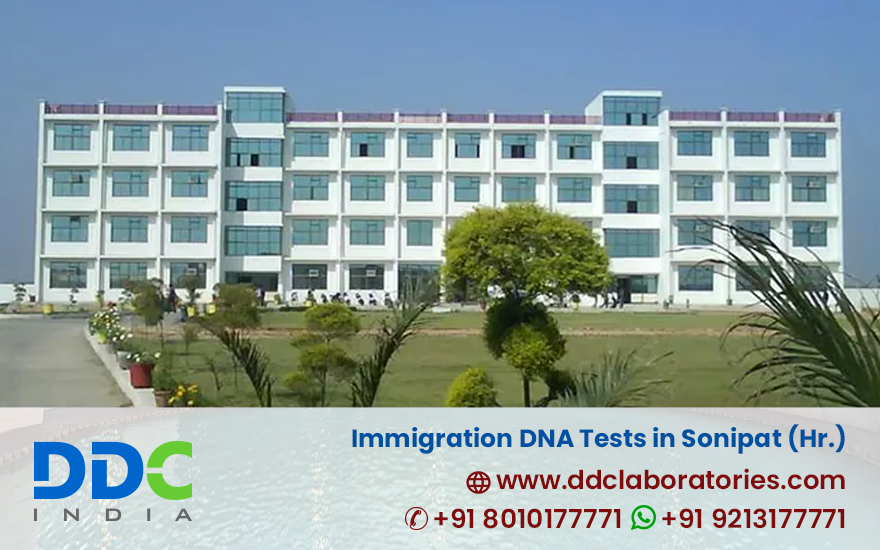 Summary
Author Rating





Brand Name
Product Name
Immigration DNA Tests in Sonipat, Haryana