Rohtak, a city renowned for its rich cultural heritage and progressive environment, has become an important hub for immigration-related services, including DNA testing. Immigrating to a new country is an aspiration for many people for a brighter future. However, when it comes to family-based immigration, it can become a little complex. In such cases, DNA testing plays a crucial role in providing the necessary relationship evidence to support immigration applications. People living in Haryana can now get accredited Immigration DNA Tests in Rohtak for various countries, including the United States, Canada, Germany, Dubai, Nigeria, Thailand, and more.
Need for Immigration DNA Tests
Confirming Biological Relationships: Immigration authorities often require solid evidence to confirm biological relationships, such as parent-child or sibling relationships, in family-based immigration cases. DNA tests provide an accurate and scientifically validated method to establish these relationships.
Overcoming Documentation Challenges: In some cases, individuals may lack official documents, or their documents may be considered unreliable or incomplete. DNA testing offers a reliable alternative, allowing families to provide concrete evidence of their biological connections.
Strengthening Immigration Applications: Including DNA test results in immigration applications can significantly enhance their credibility and increase the chances of approval. These tests offer a clear and irrefutable confirmation of family relationships, which immigration officials consider a solid basis for granting visas or residency permits.
Reuniting Families: Immigration DNA tests play a vital role in reuniting families who have been separated due to immigration restrictions. By establishing biological relationships through DNA testing, families can navigate the immigration process with greater ease and have a higher probability of being reunited.
What is the Process I Need to Follow?
For immigration DNA testing in Rohtak, the first step is sample collection. Whether you reside in Rohtak or any other part of India, we offer convenient sample collection services at our collection centers across the nation. For sample collection, bring two passport-sized colored photographs and a government-issued photo ID proof (both the original and a photocopy).
During the collection process, we use high-grade sterile cotton swabs, commonly known as cheek or mouth swabs, to collect your DNA sample from the inside of your mouth. The collected sample is then assigned a unique case number, which is shared with your sponsor -the other party, residing in a foreign country.
Once your sample is collected, the other party abroad coordinates with us to have their DNA sample collected. One their sample is collected, they will send it to our testing facility, where our experts analyze and compare the DNA samples to establish a biological relationship.
What Makes DDC Laboratories India, Best for Immigration DNA Tests in Rohtak?
DDC Laboratories India is among the best labs for DNA tests, including the Immigration DNA Tests in Rohtak. Moreover, we are among the best in the DNA diagnostics field and have been offering our services to the Indian public for many years. Here, we are the only providers of accredited Immigration DNA Tests in Rohtak, other parts of Haryana, and across India.
We have a dedicated team of professionals with many years of experience working with various immigration agencies, embassies, petitioners, and recipients around the world. Moreover, we also have an efficient system for collecting DNA samples from countries around the world, allowing us to offer our services to clients in those countries.
For those concerned about the costs, accuracy, and reliability of the Immigration DNA Test in Rohtak, we've got your back. Furthermore, we are not just limited to Rohtak. You can get our DNA Tests in Panipat, Sonipat, and other cities of Haryana.
Reach us at +91 8010177771 or WhatsApp at +91 9213177771 for more information on the Immigration DNA Tests in Rohtak.
Paternity DNA Test in Rohtak
Maternity DNA Test in Rohtak
Relationship DNA Test in Rohtak
Ancestry DNA Test in Rohtak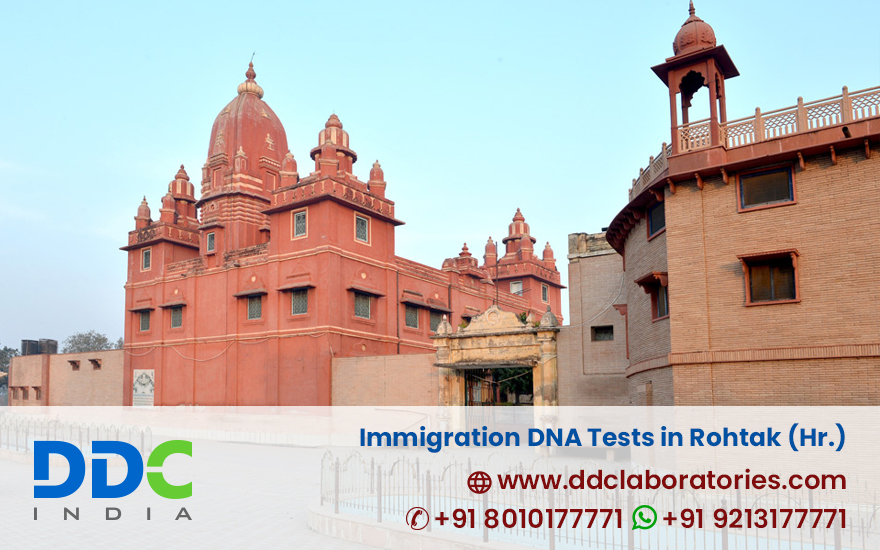 Summary
Author Rating





Brand Name
Product Name
Immigration DNA Tests in Rohtak