Yes! Immigrating to the United Kingdom can be a life-changing decision, whether for work, family reunification, or other personal reasons. The UK, like many countries, has stringent immigration policies in place to ensure that individuals who enter the country meet specific criteria. In some cases, this may involve providing evidence of a biological relationship between family members. This is where DNA testing comes into play. In this blog, we'll delve into why a DNA Test for UK Immigration is important and explore the circumstances in which it may be necessary.
Role of MOJ
The UK Home Office and Ministry of Justice (MOJ) set strict guidelines for DNA testing in immigration cases. These guidelines ensure the testing process is reliable, accurate, and legally admissible. Here's how MOJ plays a significant role in DNA testing for UK immigration:
Accreditation: The MOJ accredits and authorizes specific laboratories to conduct immigration DNA testing. These accredited laboratories must meet strict quality and procedural standards to ensure the accuracy and reliability of test results.
Guidelines: The MOJ provides guidelines and regulations that govern the entire DNA testing process for immigration. These guidelines cover sample collection, transportation, analysis, and reporting to ensure a standardized and legally admissible procedure.
Legal Admissibility: DNA test results are only accepted by the UK Home Office if obtained from an accredited laboratory and adhere to MOJ guidelines. This ensures that the results are legally admissible in immigration proceedings.
Which Relationships Can Be Tested?
DNA tests for UK immigration purposes cover a range of family relationships. These tests play a crucial role in confirming biological connections, providing clarity & certainty in situations where primary documents may fall short. The relations that can be tested include:
Paternity DNA Test: This test establishes the biological relationship between an alleged father & a child or vice versa.
Maternity DNA Test: Similar to paternity tests, maternity tests determine the biological relationship between a mother and a child or vice versa.
Siblingship DNA Test: In cases where siblings need to prove their relationship for immigration purposes, siblingship DNA tests are conducted.
Avuncular DNA Test: Avuncular DNA tests confirm the biological relationship between an aunt or uncle and a child. These tests can be necessary when aunts or uncles wish to sponsor their nieces or nephews for immigration.
Grandparentage DNA Test: In situations where immediate parents are unavailable or deceased, a Grandparentage DNA test can be conducted to provide the necessary relationship proof for immigration purposes.
Sample Collection Process
When it comes to immigration DNA testing, there are two parties involved: the sponsor, also known as the 'petitioner', and the applicant or 'beneficiary.' According to immigration regulations, the two parties must be genetically related for the beneficiary to be eligible for their visa. Here's a brief overview of how the process works:
Scenarios with Parties Within India:
When both the petitioner and the beneficiary are located within Indian borders, the sample collection process is straightforward. They can easily visit any authorized collection center within the country. Here, their DNA samples are collected, marking the beginning of the immigration DNA test journey.
Situations Involving an Overseas Party:
The process varies slightly if one of the involved parties resides UK. Initially, the DNA sample of the party located in India is collected. Following this, a unique case reference number is generated for the individual in India. Subsequently, this reference number is communicated to the party residing abroad. The party outside India must then provide their DNA sample at their local embassy under the strict supervision of an immigration officer.
Once both samples are received at the testing facility, the DNA analysis begins. The laboratory generates detailed reports that are then released to the respective immigration authorities. Additionally, individuals can request printouts of these DNA test reports for their records, which will be sent to them by courier.
Documents Required for DNA Test for UK Immigration
To undergo sample collection for an immigration DNA test for UK or any country for that matter, you will need to provide the following documents:
Original and 2 photocopies of a government-issued photo ID, like a driving license, aadhaar card, etc.
Two recent passport-sized colored photographs.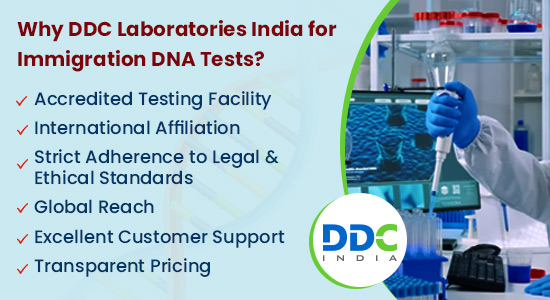 Why Choose DDC Laboratories India?
Choosing DDC Laboratories India for a DNA test for UK immigration offers several key advantages:
Accredited Laboratory: We operate through a state-of-the-art testing facility accredited by various immigration agencies like NATA and MOJ. This accreditation ensures that the DNA testing process adheres to international standards and is accepted by UK immigration authorities.
Affiliation with DNA Diagnostics Center Inc. (USA): We're affiliated with DNA Diagnostics Center Inc., a globally recognized leader in DNA testing. This affiliation enables us to provide accredited DNA tests in India.
Experience and Expertise: With years of experience in DNA testing, we have a team of expert geneticists, technicians, and support staff who are well-versed in the complexities of immigration DNA testing.
Strict Adherence to Legal and Ethical Standards: We ensure that all DNA tests are conducted with the utmost integrity and adherence to legal and ethical standards. The laboratory maintains a strict chain of custody and confidentiality to protect the privacy of individuals undergoing testing.
Global Reach: We serve clients not only in India but also across the globe. This global reach makes it convenient for sponsors and beneficiaries residing in different countries.
Excellent Customer Support: The laboratory provides exceptional customer support, offering assistance throughout the DNA testing process. Clients can reach out for guidance, information, and updates on their DNA test status.
Secure Sample Handling: We ensure secure and reliable sample handling, preventing contamination or mix-up of samples. This is essential for maintaining the integrity of the testing process.
Transparent Pricing: We offer transparent and competitive pricing for DNA tests for UK immigration or any other testing services. Clients receive value for their investment.
For further inquiries or to book an appointment for DNA Tests for UK Immigration, reach us at +91 8010177771 or via WhatsApp at + 91 9213177771.
Summary
Author Rating





Brand Name
Product Name
Is a DNA Test Required for Immigration UK?