The United States of America has long been a land of dreams, aspirations, and opportunities for individuals worldwide. Whether for work, study, family reunification, or other reasons, the US attracts people from diverse backgrounds seeking their desired life. As the immigration process involves stringent criteria to establish relationships and legal eligibility, DNA testing has emerged as a valuable tool, particularly in cases where a solid relationship evidence is lacking or doubtful. In this blog, we will guide you about the significance of DNA tests for USA immigration, its benefits, and how it contributes to a fairer and just immigration system.
Role of AABB
If you're considering applying for a US immigration visa, you may have heard about the requirement for an AABB DNA test. But what exactly is an AABB DNA test, and why is it necessary?
AABB, or Association for the Advancement of Blood & Biotherapies, is a nonprofit organization that accredits DNA testing labs based on stringent quality and testing standards. An AABB-accredited DNA lab indicates adherence to the highest levels of scientific and ethical practices in the industry.
The US immigration authorities, including USCIS & DOS, often require applicants to undergo an AABB DNA test as part of their application process. The purpose of the test is to establish a biological relationship between two or more people, such as a parent and a child or siblings, for immigration purposes.
AABB DNA testing can be used to prove a biological relationship in situations where traditional documentation, such as birth certificates is unavailable, unreliable, or insufficient. By choosing an AABB-accredited laboratory, you can ensure that your test results will be recognized and accepted by the immigration authorities. That's what makes AABB-accredited Immigration DNA test reports so critical.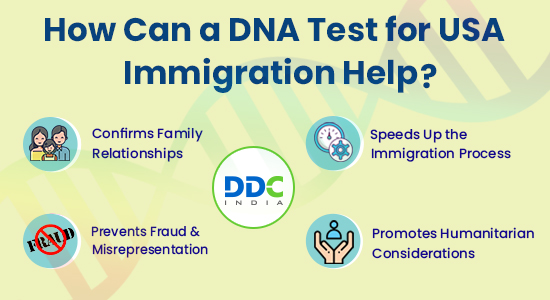 How Can a DNA Test for USA Immigration Help?
A DNA test for USA immigration plays a crucial role in various scenarios, helping to establish biological relationships, enhance credibility, and facilitate the immigration process. Here's how a DNA test can assist in US immigration:
Establishing Biological Relationships – In cases where documentation to prove a family relationship is lacking, disputed, or deemed insufficient by US immigration authorities, a DNA test can provide conclusive evidence of a biological connection. This holds significant importance for immigrants who have obtained US citizenship and aim to bring their dependents to reside with them. Additionally, it serves the purpose of family reunification, preventing the separation of loved ones due to bureaucratic obstacles.
Legal Recognition – Accredited DNA testing laboratories adhere to international standards, making their results legally recognized by US immigration authorities. This ensures that the evidence will be deemed trustworthy and genuine when reviewed for the application process.
Overcoming Document Challenges – Certain situations, such as adoptions, name changes, or situations involving different legal names, can lead to discrepancies in official documents. A DNA test can bridge these gaps by confirming the underlying biological relationships.
Humanitarian Cases – DNA testing also plays a crucial role in addressing humanitarian concerns within the immigration system. For instance, in cases where individuals seek asylum due to persecution or violence in their home countries, DNA testing can provide vital evidence to support their claims. This can be particularly relevant for vulnerable populations such as unaccompanied minors or victims of trafficking.
Enhancing Credibility – Providing a DNA test report can enhance the credibility of an immigration application. By demonstrating a commitment to providing accurate and verified information, applicants can strengthen their case and show their genuine intent to comply with immigration regulations.
Minimizing Denials & Delays – By providing accurate and irrefutable evidence of relationships, a DNA test can reduce the likelihood of denials & delays caused by uncertainty or lack of documentation.
Get an Accredited DNA Test for USA Immigration at DDC Laboratories India
At DDC Laboratories India, we have been successfully providing AABB- accredited DNA Tests for USA Immigration for years. We have collaborated with the globally recognized DNA Diagnostic Center to perform AABB-accredited Immigration DNA tests, ensuring our commitment to maintaining high-quality standards. Moreover, we are one of the most sought-after and trusted DNA testing companies for accredited Immigration DNA tests in India for countries like, the UK, Australia, Canada, Europe and others.
With 8-10 days of turnaround time for the tests, we are the fastest in terms of quick report delivery for immigration tests in India. All you have to do is contact us, and we will arrange your DNA sample collection at a nearby location.
To know more about or book your DNA Test for USA immigration, call us at +91 8010177771. You can also send us your questions or requests on our WhatsApp number +91 9213177771.
Summary
Author Rating





Brand Name
Product Name
The Significance of Visa Relationship DNA Test for USA Immigration